'Star Wars: The Force Awakens' Predicted To Make $250-$500 Million Opening Weekend, Beating 'Avengers: Age Of Ultron'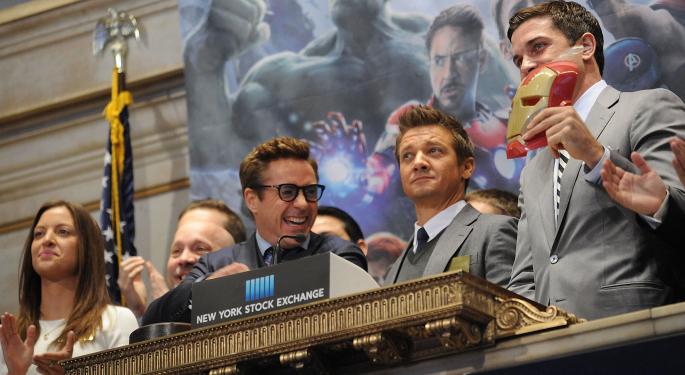 Walt Disney Co (NYSE: DIS)'s "Avengers: Age Of Ultron" is predicted to make as much as $230 million domestically this weekend.
The film is responsible for more than 95 percent of Fandango's pre-sold ticket sales and has already earned more than $255 million internationally. Hundreds of showtimes have been sold out at theaters across America.
"They'll do over $200 million," Rich Tullo, director of research at Albert Fried & Company, told Benzinga. "The factor is how many theaters are available. If there's a lot of theaters available, they'll probably be in the mid to high $200s."
"Star Wars: Episode VII -The Force Awakens," which is due for release this December, could go even higher.
"Star Wars is gonna be huge," said Tullo. "Star Wars will probably surpass The Hunger Games and films like that. It could be the first $500 million opening." Tullo thinks this number could be achieved over a four-day period (Thursday, December 17 through Sunday, December 20) if movie ticket prices rise to $50 or more, as predicted by "Star Wars" creator George Lucas. This assumes that "The Force Awakens" will have early showings the day before its official opening on December 18, 2015.
"Theaters could use it as an opportunity to raise ticket prices," said Tullo. He added that he would be disappointed with anything less than $300 million during the three-day (Friday through Sunday) period. He expects higher ticket sales if Thursday is included.
Related Link: Hewlett-Packard's Glasses-Free 3D Tech is a Star Wars Fan's Dream Come True
No Price Hike? No Problem
Even at current prices, analysts are convinced "Star Wars" will dominate.
"The big one, the blockbuster of all time that will blow away records -- both in this galaxy and the far away galaxies -- is Star Wars," Tigress Financial Partners analyst Ivan Feinseth told Benzinga. "That's gonna be the big one."
When asked how much "The Force Awakens" would make if "Age of Ultron" opened at $220 million, Feinseth replied, "$250 million." He noted that moviegoers camped outside for weeks to see the last "Star Wars" trilogy.
"It was crazy," he said. "This is just gonna be crazier. And Star Wars is also very global. I think Star Wars is even more global than Avengers. And the fan base of Star Wars is much more multi-generational and larger than that of Avengers. You could easily encompass three generations of Star Wars fans. The fan base of Star Wars is just bigger than any fan base of any other movie franchise that has ever existed."
Billions For All
"They're all gonna do amazing," Patrick Moorhead, president and principal analyst at Moor Insights & Strategy, told Benzinga. "They're two franchises that people love. They're both gonna do phenomenal. With that said though, I think that Star Wars opening in December will do better than Avengers opening this weekend, even though Avengers has done pretty well so far in Europe."
Tech industry expert and analyst Jeff Kagan concurred with this assessment.
"These are obviously big brand-name winners, and you would assume any follow-up would have the same or better [opening]," Kagan told Benzinga. "I don't see any softening of the brands. I see fever pitch. I see lots of excitement from the viewers and from everyone who's associated with it, including the toy manufacturers and everyone who puts the brand names on items."
Disclosure: At the time of this writing, Louis Bedigian had no position in the equities mentioned in this report.
Posted-In: Albert Fried & Company Ivan Feinseth Jeff Kagan MoorheadAnalyst Color Top Stories Exclusives Tech Best of Benzinga
View Comments and Join the Discussion!