S&P Capital IQ Analyst: Twitter Results Are Causing People To Scratch Their Heads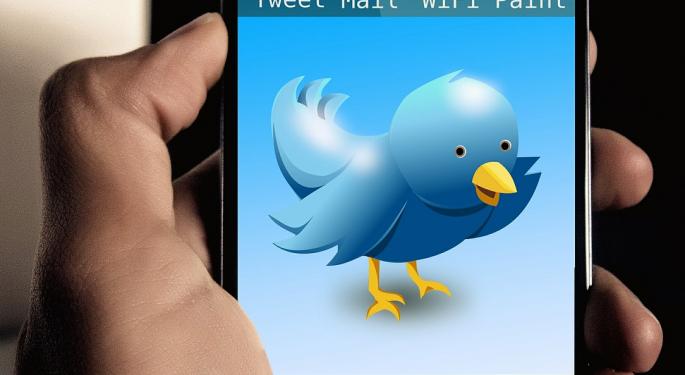 Stock of Twitter Inc (NYSE: TWTR) plummeted heavily on Tuesday on back of the online leak of the company's quarterly results and the revenue and guidance coming in worse than expectations. Revenue for the quarter came at $436 million, while analysts were expecting $456.8 million.
Sam Stovall, managing director of U.S. Equity Strategy at S&P Capital IQ, was on CNBC following Twitter's results.
Disappointment
"It ended up being something that dragged down the price quite dramatically," Stovall said, "and really is causing a lot of people to scratch their heads, because the revenue number – while I think a lot of other companies would be very happy to have that kind of growth – was a disappointment."
Stovall continued, "Earnings were better than expected, but revenue growth and guidance were pretty much weak as compared with expectations."
Related Link: Top Analysts React To Twitter's Leak Crash
Maintaining A Hold
Stovall was asked about his outlook for the company and the stock. He replied, "The expectation was we would see about a 70 percent increase in revenues this year, about a 45 percent increase in 2016.
"But our analyst Scott Kessler has to sit down and sharpen the pencil and try to make some estimates' revisions as to what's going to happen in the next year or two. We are maintaining our hold recommendation on the stock, which is what we had going into the report."
Overall Market: Positive
On whether the overall market is doing well in the earnings season than previously expected, Stovall said, "With the numbers being that low, you probably are going to end up being surprised to the upside, because typically what's happened is that the actual numbers have come in between 2 and 4 percentage points better than the estimated results.
"We probably could end up with a positive number this quarter," Stovall concluded.

Image Credit: Public Domain
Posted-In: S&P Capital IQ sam stovall Scott Kessler VetrAnalyst Color CNBC Media
View Comments and Join the Discussion!