Exclusive: What's In Store For Lumber Liquidators?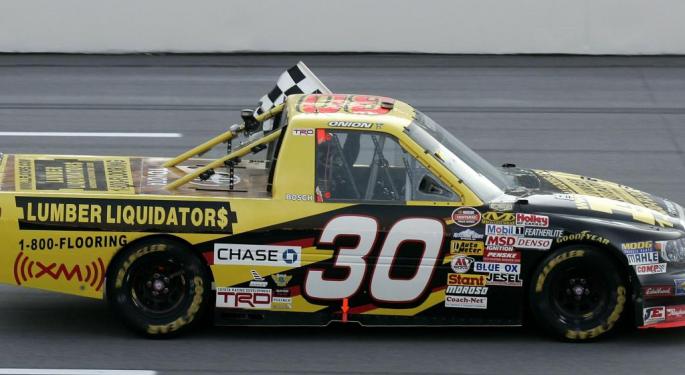 This is the third of a three-part series.
Need to get caught up? Read Part 1 and Part 2. For alerts on all news about Lumber Liquidators, add it to your portfolio watchlist above.
Update: Lumber Liquidators reported a Q1 loss of $7.78 million, or $0.29 per share, compared to a $13.7 million profit, or $0.49 per share, in the first quarter of 2014. The company also reported that Chief Financial Officer Daniel Terrell is stepping down this summer.
It's been a rocky first quarter with Lumber Liquidators Holdings Inc (NYSE: LL).
To recap: An unfavorable "60 Minutes" report made the stock plummet close to 50 percent to $30. Shares traded near $70 in late February, they now trade in the mid $33 range.
The report claimed the company is selling non-CARB compliant laminate with unsafe levels of formaldehyde from Chinese manufacturers, and it's been accompanied by short sellers like Whitney Tilson making public statements about the company and its practices.
Lumber Liquidators did provide a business update for Q1 earlier this month, so there may not be too many surprises in store for the earnings report. But analysts and investors are divided on the issue, and there are a few key things to keep an eye on.
Aggressive Sales
Sales will be the most important thing for Lumber Liquidators from a near-term data point perspective, Wedbush Analyst Seth Basham told Benzinga.
The business update stated that there was a 12.8 percent decrease is year-over-year sales for the month of March (the 60 Minutes report came out March 1). Overall sales for the first quarter were up 5.6 percent over the first quarter of 2014.
Basham said a bounce back in the last few weeks of the quarter was probably driven by aggressive advertising and discounting.
Rand Strategic Partners Co-Founder Todd Sullivan also told Benzinga the company has been aggressive with pricing.
"If you look at their website, they're slashing prices left and right," Sullivan said. "I'm seeing incredible sales that they are dishing up to people."
Basham noted that Lumber Liquidators will probably give an update on sales for the month of April, but it's unclear whether or not they will provide guidance for second quarter or the full year.
Investor Sentiment
What's important about the bounce back in sales is that it shows there's still a level of appetite for Lumber Liquidators products, Basham explained, adding that a consumer who's afraid of formaldehyde probably wouldn't go near the company, let alone buy anything from them.
"So there's still a level of demand out there. People are making their judgment and even if they don't want the Chinese laminate, they might think their other products don't have any problems," Basham said.
A Piper Jaffray homeowner survey of 404 participants regarding the Lumber Liquidators brand and recent 60 Minutes segment yielded better-than-expected results.
Related Link: 8 Damning Quotes From The 60 Minutes Exposé On Lumber Liquidators
Only one-third of the respondents said they had seen or heard about the 60 Minutes report. When asked about brand perception on a sale of 0-10 (with 10 being the best rating), those surveyed gave an average rating of 5.0.
Respondents who had watched or heard about the 60 Minutes report gave an average of 4.0 rating, while those who had not seen or heard about the report averaged a 5.9 answer.
Piper Jaffray also conducted a social media analysis of websites like Twitter, Facebook, Instagram and Wikipedia. According to Piper Jaffray's research, consumer interest in the Lumber Liquidators scandal appears to be slowing and negative social media comments have been declining since mid-March.
The report saw these results as "modest positives." The firm has a neutral rating on the stock with a price target of $37.
Cantor Fitzgerald recently initiated coverage of Lumber Liquidators with a Buy rating and a price target of $45, saying that the recent controversy has created an investing opportunity in a "differentiated, growth-driven business model at an attractive valuation."
Margin Pressure
Sullivan, a long/short hedge fund manager, thinks that the big number for Lumber Liquidators is margins. He pointed out that the company's business update showed margins fell. Gross margin for Lumber Liquidators is expected to be in the 35.5 to 36.5 percent range, whereas gross margin for the first quarter of 2014 was 41.1 percent.
Sullivan said that the fall in margin prices was probably due to either Lumber Liquidators purchasing CARB-compliant laminate from China and paying more for it, or enticing customers with slashed prices that cut into margins.
In a recent preview for Lumber Liquidators earnings, Basham margin headwinds will remain. "While we believe the fact that customers are not abandoning Lumber Liquidators is more important than margin pressure, gauging stock reaction to this set of facts is difficult," he said.
Basham's price target for Lumber Liquidators is $33.15 with a neutral rating.
Regulatory Risk
The formaldehyde issues will continue to haunt the stock, Basham said.
"I think it wipes out a significant set of potential institutional investors who won't touch this because of those overhanging issues, and it's really hard to size of the liabilities associated with them," he said.
Because of those issues, Basham doesn't see the stock bouncing back to $60 (the level it was at the very beginning of 2015). In addition to falling margins, Sullivan mentioned that there's potential for costs due to lawsuits, settlements and any regulatory action.
He added that even if regulators don't act on Lumber Liquidators, specifically, they could act on the industry in general and ban the import of the laminate, which Sullivan said would be a huge blow to Lumber Liquidators and its margins.
"I think there is a tremendous risk to purchasing it here or thinking that over the last year it was fairly valued," Sullivan said.
That doesn't mean the stock won't trade like crazy on any news blurb or anything coming out, Sullivan noted.
Posted-In: lumber liquidators Rand Strategic Partners Seth BashamAnalyst Color Previews Exclusives Trading Ideas Interview Best of Benzinga
View Comments and Join the Discussion!