Can Google Actually Beat An Earnings Report?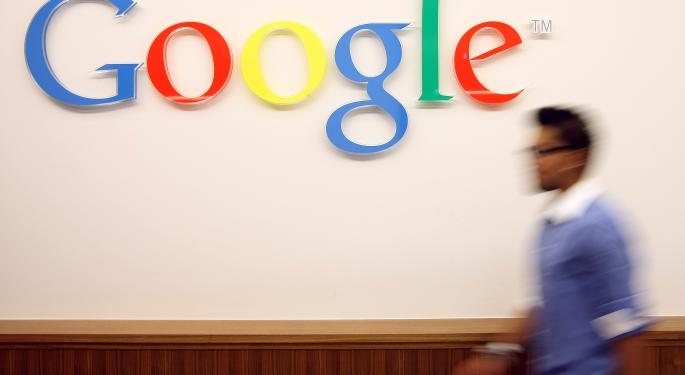 Analysts have been repeatedly baffled by the fact that Google Inc (NASDAQ: GOOG) (NASDAQ: GOOGL) can't beat an earnings report. The company has failed to beat consensus several quarters in a row, causing frustration among those who expect bigger and better things from the search engine giant.
"Until they prove they can, you almost can assume they won't [beat earnings]," Sean Udall, CIO of Quantum Trading Strategies and author of The TechStrat Report, told Benzinga. Udall questioned the thought behind some of the analyst estimates, which he believes are too high. He also speculated that Google might not miss by much.
"I think the biggest issue is, they have sort of a decelerating [business]," said Udall. "They got so big, and a bunch of other things aren't working. It's just harder and harder for Google to keep beating. That's the situation they've gotten themselves into. In large part they're a victim of their own success."
Related Link: Google Search Is Twitter's Plan To Monetize 500 Million Logged Out Users
Bye-Bye YouTube
Google officially pulled its streaming video app from a number of TVs, Blu-ray players, smartphones and tablets. Many of those same devices are still capable of running Netflix, Inc. (NASDAQ: NFLX), Hulu and Amazon Prime.
"It drives you nuts," tech industry expert and analyst Jeff Kagan told Benzinga. "While they think this is going to help them with their investment…they're also ticking off their customers. When you tick off your customers, that's never a good move."
Kagan praised former Southwest Airlines Co (NYSE: LUV) CEO Herb Kelleher, who challenged the status quo when focusing on customers versus employees or investors.
"He always focused on the workers," said Kagan. "Because if you have happy workers, they will take care of the customers."
Second, Kelleher focused on customers. Investors came after that.
"If you focus on the investor, you might have short-term gains but long-term losses," Kagan added. "I think this is a mistake. But big comps make big mistakes all the time."
Google Vs. Yahoo
Yahoo! Inc. (NASDAQ: YHOO) missed earnings this week, reinforcing one expert's thesis on the company in comparison to Google.
"Google just continues to grow," Cody Willard, chairman of Scutify (a financial social network), told Benzinga. "When you contrast Google with Yahoo, it underscores how well Google is being managed."
Willard thinks that expectations are low heading into earnings. He's not sure the results will help the stock pop, and he is not trading on that thesis. However, Willard intends to hold onto his shares regardless of Google's report.
Related Link: Google Earnings: Estimates Have Been Falling Since January
Spin-Off Opportunities?
Udall provided a few ways for Google's stock to get moving.
"I think what makes the stock work is if they talk about maybe having stock buybacks, maybe dividends, but more importantly, maybe spinning out YouTube, spinning out other assets," said Udall. "I think the whole upside story for Google is, do they start doing financial engineering, spinning out assets, and really, try to create value that exists in the company that is not recognized? Because there is a ton of it!"
Udall maintained his view that YouTube should be spun out.
"There's probably a couple other things they could do, too," he added. "Maybe the analysts have gone low enough and gotten beaten up enough…that Google might meet a quarter, so we'll see."
One future catalyst could be the company's upcoming deal with Twitter Inc (NYSE: TWTR).
"I think the Twitter deal and the search algorithm changes will be beneficial for Google," Udall concluded.
Disclosure: At the time of this writing, Louis Bedigian had no position in the equities mentioned in this report.
Posted-In: Cody Willard Jeff KaganAnalyst Color Previews Top Stories Exclusives Tech Trading Ideas
View Comments and Join the Discussion!