Polcari: Now Who Is Spoofing Us?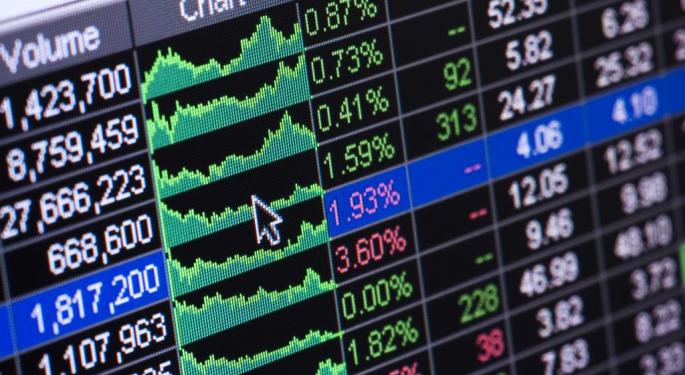 The following are highlights from Kenny Polcari's morning note this Thursday; it is the opinion of the author and is presented below, un-edited. He can be found on Twitter @KennyPolcari.
Stocks came out of the gate with a bang.....moving higher in the early seconds after the bell rang only to weaken as the mins ticked by......at 10:20 - the mkt was not only negative but was testing support .......and like I said in yesterday's note - it found the buyers......that's all it needed.
The fact that the mkt failed to 'break' WAS the positive and it was off to the races...... By 3:30 - the indexes were once again flirting with their highs....and Nasdaq? Well that index was not only flirting, it was teasing traders and investors - daring them to push it up and thru its March 2000 high of 5048.....But alas - that was not to be yesterday.....and it may have a bit of trouble today as well....at least until investors have a chance to react to the disappointing tech numbers reported after the bell last night.
Now - let's put this in perspective....Facebook Inc (NASDAQ: FB) - which everyone was waiting for - did not disappoint.... Sales rose by 42 percent....not bad, but the afterhours crowd was looking for 49 percent...so those bozo's were disappointed and took 2 1/2 percent out of the stock in the moments following the release....Now - revenue growth was impacted by the stronger dollar - and since FB generates more than 50 percent of its revenue overseas - then you can see the impact that the strong dollar had....BUT we KNEW THIS.....And since they don't 'produce' a product overseas - they did not get the benefit of weaker foreign currencies like so many of the multi-nationals are getting... In the end - earnings of 42 cts were ABOVE the 40 cts expectation and well above a year ago of 35 cts.... So - get over yourself....
This was not a negative report....In early pre-mkt trading - the stock is holding right in line at $83.65 - which was yesterday's low...Now on Tuesday - the stock did gap up - just a bit - so technically - it might want to go back and 'fill that gap' at $83.15......and then after that...well - I suspect it could go on to challenge the March highs of $86/sh.
Texas Instruments Incorporated (NASDAQ: TXN) and QUALCOMM, Inc. (NASDAQ: QCOM) - well those are different issues - and in fact more concerning...as they missed on earnings and 'lowered forward guidance'.....So my sense is that these stocks will cause investors to focus on the negatives....causing the mkt to once again stall - for now.
Look - Earnings results so far from 110 companies reported in the S&P are on track to fall 4 percent from a year earlier.... The S&P is trading at 17.4 X's the previous 12 months' earnings, - this is 17 percent ABOVE the historical 10-yr average of 14.6 X's...... This is why the mkt has been tossing and turning of late.....We are trading above historical averages all while U.S. economic indicators continue to miss and disappoint causing long term investors to sit tight - thus the lack of real commitment and volumes......
One of the most interesting reads on this are the 'Economic Surprise Indexes' that exist across the street. Citigroup has one, BB has one and both are negative as of the 20th......In fact the BB Surprise Index is making fresh lows......The index measures whether the eco data is beating or missing forecasts, and the fact that it is sitting at its lowest level since the end of the GFC (Great Financial Crisis) - should be just a bit concerning....Next week we get 1Q GDP, which we know is not going to be 'robust' , the Atlanta Fed is projecting growth of ZERO and yet here we are testing new highs. Does anyone else suspect a disconnect? Is someone 'spoofing' us?
Next week (28/29) we will hear from the FED - you can expect to hear more about a weak global economy, strong dollar, weak earnings, zero GDP growth and lack of inflation - all as reasons for caution in the months ahead.....June is OFF the table - rates not going anywhere.....August is most likely off the table as well - but they will not close that door in April......they need to keep hope alive that rates will begin the move higher......with probably no real intent on doing anything as long as the US economy continues to waffle back and forth. NY Fed Pres. Dudley had this to say:
"While I am relatively optimistic about the growth outlook for 2015, I also must acknowledge that there are some significant downside risks...in particular the 15 percent appreciation of the exchange value of the dollar since mid 2014 is making US exports more expensive and imports more competitive"
(The strong dollar is expected to reduce GDP growth by about 0.6 percent).
Speaking of 'spoofing' - have you seen the latest on the story of the week?
Exchanges in both the US and Europe had this clown on 'trader watch' - identifying numerous suspicious trades over a period of months....very large orders entered and then canceled over and over.....in '09 and '10 they even questioned his actions...telling him that on the very day of the crash that "orders are expected to be entered in good faith for the purpose of executing bona fide transactions".
How's that working for you? It wasn't until 2012 when the still unknown whistle blower identified all of these suspicious trades dated May 6th. The CFTC (Commodities Futures Trading Commission) saying that they do NOT have the technology to monitor canceled trades in 'real time' hindering their ability to police the mkt...( you mean to tell me that technology can follow me around the world, knowing everything about me yet - we can't monitor trades in a completely electronic world?) ...Gary Gensler former head of the CFTC and former GS MD, and now Hillary's CFO for her Presidential campaign, issues a 104 page report explaining the cause of the flash crash and admits that they never even looked at spoofing, layering , manipulation or order cancelations....... You can't make this up...who would believe it?
[...]
"The market commentary is the opinion of the author and is based on decades of industry and market experience; however no guarantee is made or implied with respect to these opinions. This commentary is not nor is it intended to be relied upon as authoritative or taken in substitution for the exercise of judgment. The comments noted herein should not be construed as an offer to sell or the solicitation of an offer to buy or sell any financial product, or an official statement or endorsement of O'Neil Securities, Incorporated or its affiliates."
The preceding article is from one of our external contributors. It does not represent the opinion of Benzinga and has not been edited.
Posted-In: Kenneth Polcari Kenny Polcari Trader morning noteAnalyst Color Previews Markets Trading Ideas Best of Benzinga
View Comments and Join the Discussion!