BuildZoom Chief Economist Says Zillow ListHub Loss 'Hardly The Blow That Was Feared'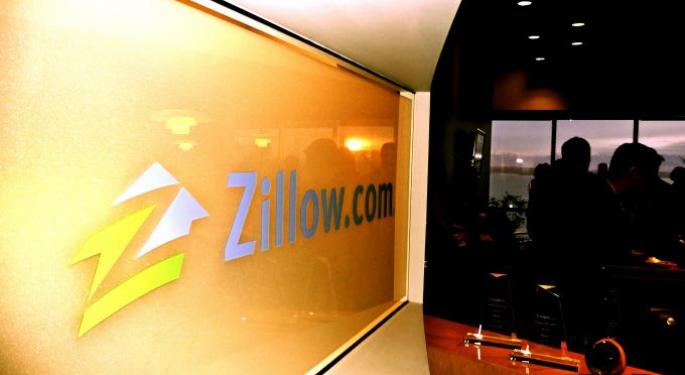 On April 14, Zillow Group Inc (NASDAQ: Z) Group CEO Spencer Rascoff hosted a much anticipated conference call to discuss the integration of Trulia and provide preliminary guidance for 2015.
However, there is another piece to the Zillow puzzle which may have investors on edge -- News Corp (NASDAQ: NWSA)'s cancellation of its ListHub syndicated data agreement, effective April 7. News Corp publishes the Wall Street Journal, and now owns competitor Realtor.com.
ListHub was a major source for both Zillow and Trulia listing data.
Exclusive Comments From BuildZoom
In an exclusive Benzinga interview, BuildZoom.com Chief Economist Dr. Issi Romem, discussed the methodology utilized and key takeaways from his initial "MLS Wars" listings data, which was also published this week.
Romem looked at both Zillow and Trulia listings, on a county-by-county basis, in the post-ListHub world.
Related Link: Goldman Sachs: Zillow's Long-Term Path Intact
Tale Of The Tape
Investors were initially concerned about the deep cuts in revenue guidance, EBITDA and sales, as Zillow shares fell off a cliff, trading as low as $81.07 prior to a short halt in trading to allow investors to digest the news.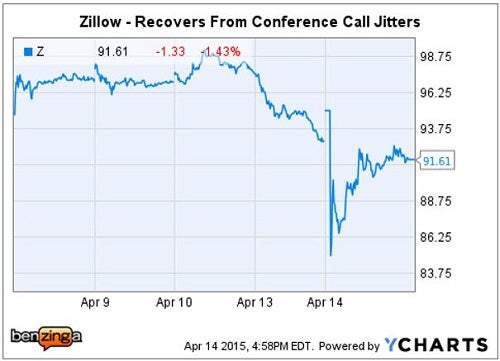 Rascoff is writing off 2015 as a "transition year," and he is looking to 2016 and beyond for post-merger performance drags to be resolved and metrics to improve.
Zillow - Conference Call Highlights
FY 2015 EBITDA lowered to just $80 - $85 million vs. a prior consensus of ~$146 million.
FY 2015 adjusted sales of $690 million vs. prior consensus of $753 million.
Trulia sales business was disrupted by both the FTC delays in allowing integration of the efforts with Zillow, as well as the closing of the Trulia San Francisco sales office, and elimination of 350 previous positions.
Rascoff announced that while existing customers will still be supported, he is winding down Trulia's Market Leader advertisings/CRM sales agent platform.
Rascoff also noted "higher agent advertising churn than he would like…"
However, the lone bright note was that he appeared to be confident that the ending of the ListHub agreement by News Corp would not materially affect revenues.
BuildZoom Data - Deeper Dive
While the "noise" generated by the conference call may have taken center stage, in the long-term listings are the life-blood for real estate agents; and are certainly critical to Zillow's success as well.
"Before ListHub pulled the plug on April 7th, Zillow had 2.2 million nationwide listings, Trulia had 2.1 million and Realtor.com had 2.4 million. The chart below shows the how those numbers have trended since then."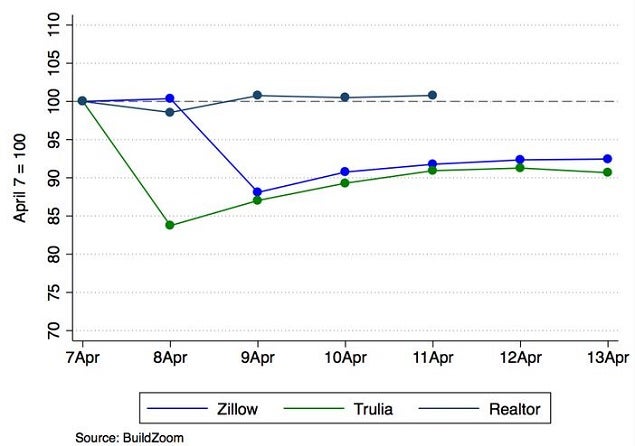 ListHub content appeared "to have been removed from Trulia between April 7th and 8th, and from Zillow between April 8th and 9th. For Trulia, the removal coincided with a 16.3% drop in nationwide listings, whereas for Zillow it coincided with a smaller drop of just 11.9% from the original level. Since then, the Zillow Group's various data initiatives have seen them rebound nicely," according to Romem.
Zillow - U.S. By County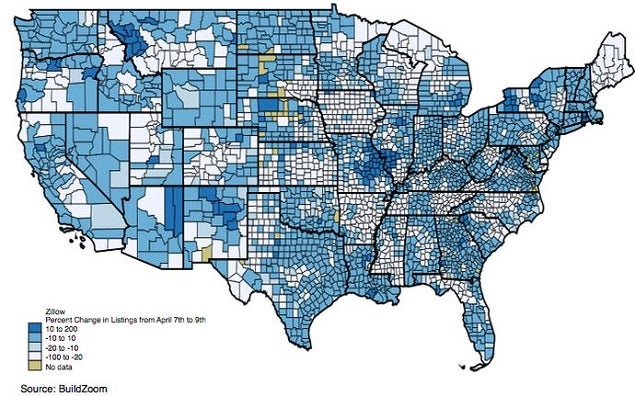 BuildZoom - Methodology
"Our methodology is simple: we check the number of listings on each of the 3 websites, Zillow, Trulia and Realtor.com once a day, for each county in the US. We look specifically for homes-for-sale, not for pending sales (reported on realtor.com), not for homeowners who post "make-me-move" listings on Zillow, and not for foreclosures," the economist noted.
"It would be more accurate to show how Zillow and Trulia's listings fared relative to Realtor.com's, but given that daily fluctuations in the number of listings at the county level are much smaller than those due to the termination of the ListHub agreement, we will simply show what happened to Zillow and Trulia's listings (it is more straightforward)."
A similar map to the one above, for Trulia listings, can be found here.
BuildZoom - Bottom Line
Romem observed, "Although Zillow Group's inventory of listings has taken a hit, it is hardly the blow that was feared. In fact, in the larger metropolitan areas, Zillow and Trulia appear to have taken almost no hit. The declines in coverage appear to be confined to rural America, and to a handful of metro areas, where we expect the company to concentrate its MLS recruitment efforts."
Investor Takeaway
Notably, Dr. Romem is working on another data project that could benefit both investors and homeowners -- "a new set of national and metro area residential construction and remodeling indices," which BuildZoom.com is producing jointly with the Center for Real Estate at MIT.
Image credit: Brad Coy, Flickr
Posted-In: BuildZoom.com Dr. Issi Romem Realtor.comAnalyst Color Exclusives Interview Real Estate Best of Benzinga
View Comments and Join the Discussion!