Are Elon Musk And April Fool's Gags Good For Tesla?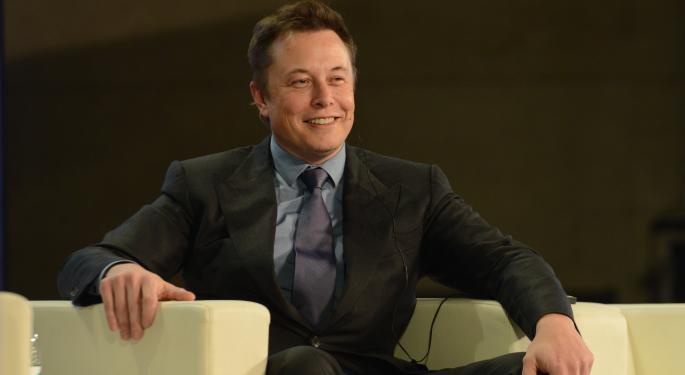 Tesla Motors Inc (NASDAQ: TSLA) moves whenever co-founder Elon Musk speaks publicly. This includes some of the 140-character messages that Musk posts on Twitter.
Last week the stock moved when Tesla published a joke on April Fool's Day. The company claimed that it was launching a new smartwatch called the Model W.
"Tesla will be seen as the stock of the decade and Musk the CEO of the century," Marketfy Maven Thomas Carr, AKA Dr. Stoxx, told Benzinga. "And the company has a sense of humor too? Who knew? Who cares? Just buy the stock, hold it and hand it on to your grandchildren."
Sean Udall, CIO of Quantum Trading Strategies and author of The TechStrat Report, doesn't mind the investor reaction to every move Tesla makes.
"I kind of like it," Udall told Benzinga. "It theoretically gives you opportunities to trade. Any time a stock is moving really stupidly, up or down, you theoretically have a trading opportunity."
Related Link: Tesla Hasn't Solved Range Anxiety, Says Former Chevy Volt Exec And Fisker CEO
Tesla's Biggest Problem: Musk Turned Off Investors
In October 2013, Musk told investors that Tesla's price is "more than we have any right to deserve." Musk made similar comments in September 2014, saying that "people sometimes get carried away with our stock."
"I think our stock price is kind of high right now," Musk told CNBC. Those comments were very frustrating for Global Equities Research analyst Trip Chowdhry.
"At this very instant, the credibility of Elon Musk is at its bottom with investors," Chowdhry told Benzinga. "He basically said to the whole world, 'Don't buy my stock.'"
Chowdhry said that Musk's tweets have "zero value." He believes that if Musk had credibility, his recent sales announcement would have caused the stock to jump much higher.
"We haven't come across one customer who said, 'My car stinks,'" said Chowdhry, who has surveyed thousands of Tesla owners. "[Then Musk says], 'Don't buy my stock.' He is discrediting his own customer base. Because of what he said, investors have lost more than $10 billion!"
Some Investors Agree With Musk's Remarks
Marketfy Maven Nic Chahine actually agrees with what Musk had to say.
"As a car company it is way overpriced," Chahine told Benzinga. "As a tech company I have yet to see a tangible reason to believe that it will make money in other venues."
Chahine said that he could change his mind after seeing Tesla's new product line. He wants to see a "realistic tangible source of income" to re-evaluate his opinion of the Tesla story.
Disclosure: At the time of this writing, Louis Bedigian had no position in the equities mentioned in this report.
Posted-In: Elon Musk Global Equities Research Marketfy Nic ChahineAnalyst Color Top Stories Exclusives Tech Best of Benzinga
View Comments and Join the Discussion!