BTIG Analyst Explains Disney Downgrade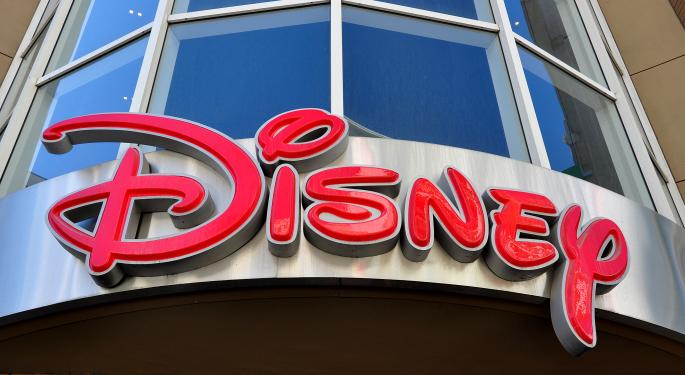 BTIG Research downgraded Walt Disney Co (NYSE: DIS) from Buy to Neutral on Monday. However, shares of Walt Disney were trading higher, as its latest release "Cinderella" had a bumper collection over the weekend.
BTIG's Richard Greenfield was on CNBC to explain the reasons behind the downgrade and discuss why Netflix, Inc. (NASDAQ: NFLX) has better upside potential than Walt Disney.
"When I look at where the stock is trading off of 2015, let alone even off of 2017, you are now approaching pretty high teens – multiples – for earnings," Greenfield said.
Related Link: A Recap Of Disney's Annual Shareholders' Meeting, "Star Wars," "Frozen" And More
"It's just harder to see how this is a $130-$140 stock, and I think there's just better upside elsewhere in the sector."
Lots Of Choices
Greenfield was asked what he thinks of Jim Cramer's comments regarding the downgrade,in which he asked if taking into account that Disney is fairly valued one sells the stocks, how are they going to get back in the stock. He replied, "I think portfolio managers have a lot of choices in how they allocate their portfolio; and look, they look to BTIG, they look to us to give them our best ideas.
"And right now, looking at Netflix and where's it valued at, to us, that looks like 'Here's better upside!' and to say that you can't buy Disney on weakness."
He continued, "I mean, if 'Avengers' underperformed, Disney would not be trading where it is right now. And so, look even over the last five years there's points where you certainly could have traded Disney very well in terms of getting in and getting out, and so with a stock that's gone and outperformed dramatically.
Where Disney Stands
"Now over the last year, Disney is up 33 percent and year-to-date it's already up 14 percent. So, this has been a pretty tremendous winner; we are just really looking at it going. We think the upside is more limited now than it's been over the last five years, and we are really looking to better opportunities in the sector," Greenfield concluded.
Posted-In: BTIG Research Richard GreenfieldAnalyst Color CNBC Top Stories Analyst Ratings Media Best of Benzinga
View Comments and Join the Discussion!