Jim Cramer's 'Cult Stocks'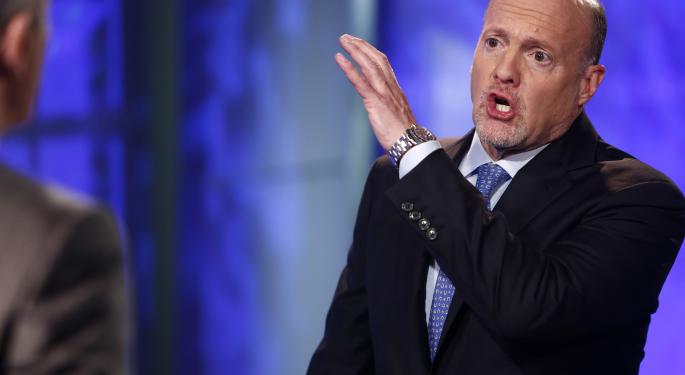 In a recent article on The Street, analyst and CNBC personality Jim Cramer discussed "cult stocks."
These names include stocks that tend to consistently find buyers despite a major disconnect between share price and company performance. Here's a breakdown of several names Cramer mentions in the article.
Tesla Motors Inc (NASDAQ: TSLA)
Cramer lists Tesla as a prime example of a cult stock. Despite the fact that Tesla shares are down significantly from all-time highs, the stock still sports a forward price to earnings ratio (PE) of 47.7 and has been unprofitable in the past year.
Cramer specifically mentions China performance as one recent example of bad news that investors seem to shrug off. "How many stocks can withstand numbers like 10 cars sold in a month in China -- when the company was hoping that at least 30% of its cars would be sold there this year -- and still be hanging in there? The resilience after those hideous numbers is pretty staggering," Cramer added.
Amazon.com Inc (NASDAQ: AMZN)
Cramer mentions Amazon as another "ultra-cultish" name. Amazon's forward PE ratio is currently 174.5, but the stock is up about 25 percent so far in 2015. Cramer believes that investors are looking to Amazon's Web numbers to justify the lofty share price. Investors seem to be completely dismissing the company's negative earnings and guidance.
Other Names
Cramer lists Netflix Inc (NASDAQ: NFLX), GoPro Inc (NASDAQ: GPRO), Mobileye NV (NYSE: MBLY) and Alibaba Group Holding Ltd (NYSE: BABA) as other cult stocks that the market has supported regardless of their "hefty valuations."
Cramer says he no longer considers Facebook Inc (NASDAQ: FB) a cult stock because it now has real earnings.
Disclosure: The author holds a short position in Amazon.
Posted-In: Jim Cramer Opinion Media Trading Ideas Best of Benzinga
View Comments and Join the Discussion!