WWE Rises On Earnings Beat, But Are Investors Missing Something?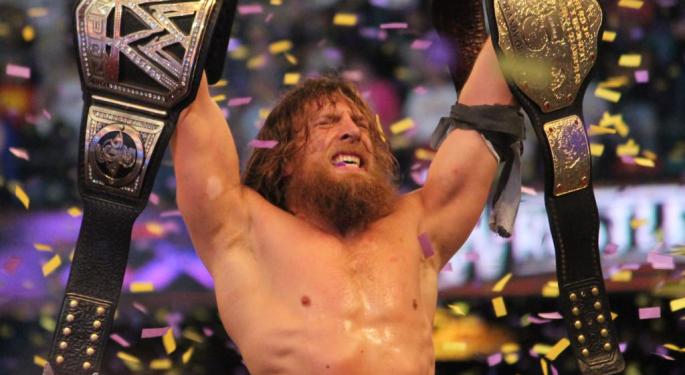 World Wrestling Entertainment, Inc. (NYSE: WWE) is up more than 6 percent this afternoon. Many investors appear to be satisfied with the company's growth, but are they missing something?
Under the live events section of its earnings report, WWE notes:
"North American live event revenue increased 11% to $15.3 million versus the prior year quarter, driven by the staging of 5 additional events. Average ticket price increased 3% to $45.75 while average attendance declined 3% to approximately 5,700 fans."
Does this mean that the company can only increase live event revenue by raising prices and by holding more events each year? And what good will that do the company if attendance continues to decline?
"I guess if I was to put an order of importance -- in terms of the data that's revealed -- I would say that's not at the top," Benchmark analyst Mike Hickey told Benzinga. "I think that success in the network here is sort of [more] important."
A Normal Decline
Emmanuel Lemelson, Chief Investment Officer of Lemelson Capital Management, said that the business cycle is a normal part of every industry.
"Pro wrestling, as manifested in live events, has been around for a long time," Lemelson told Benzinga. "It developed in the 19th century out of traditions of folk wrestling. In the US, for example, pro wrestling -- i.e., traveling performers paid for mass entertainment in staged matches -- began in the post-Civil War period in the late 1860s and 1870s."
Lemelson said that pro wrestling has endured a number of declines over the past several years. The sport suffered during World War II, the 1970s, '80s and over the last decade as well.
"Given its enduring appeal as a live event over a significant period of time, however, it doesn't seem likely that any current softness in event attendance is indicative of a permanent secular decline."
Network Vs. Live Events
Hickey said that when the network was launched, some feared that it could have a negative impact on attendance at live events.
"That may have been mostly pay-per-view attendance," he said. "Of course, that is one of their live events. It could be reflective of regions where they're having those events. It could be that they had more events and perhaps the new events were lower attendance averages than the normal ones."
Still, Hickey isn't too concerned about a 3 percent decline.
"Obviously you'd want to see growth," he added. "We don't know: Are they selling out regions, are they in bigger venues than they were before? We don't know."
Fiscally Challenged
Lemelson had two comments about WWE's future. The first addressed the company's fiscal deficit.
"The key question is: how many more years can WWE run a fiscal deficit?" said Lemelson.
"Net income has been declining for years. With a deficit in the last five quarters (when combined with dividends), owner equity has been diminishing for a whopping eight years...cash at the company has declined during the same period from $175 million to just $47 million at December 31, 2014.
"Liabilities during the same time frame have ballooned from $83 million in 2006 to ~$121 million at September 2014. At a minimum, it can be said that the dividend is not sustainable," he added.
Lemelson also discussed the long-term potential for WWE Network.
"It was always [a] brilliant idea -- ahead of its time," he said. "However, WWE needs new leadership or to sell [the] company. [It's] not enough to just cut costs as they did last year."
Disclosure: At the time of this writing, Louis Bedigian had no position in the equities mentioned in this report.
Image credit: Megan Elice Meadows, Wikimedia
Posted-In: Analyst Color Long Ideas Exclusives Intraday Update Analyst Ratings Movers Tech Trading Ideas Best of Benzinga
View Comments and Join the Discussion!