BYE FELICIA: Millennials And Why Teen Retail Tanked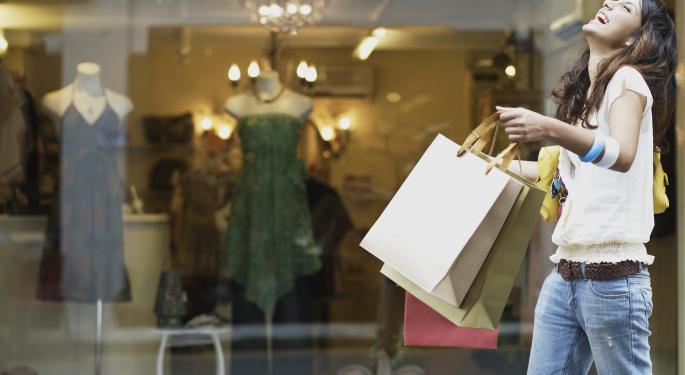 There was a lovely article in The Wall Street Journal Thursday morning on teen retailers Abercrombie & Fitch (NYSE: ANF) and Aeropostale (NYSE: ARO) and the lackluster performance to date.
Thanks for that. Yet the authors neglected to mention the most important thing: Why?
One of the biggest sucker bets that investors make is banking on teen retail stocks on the premise that "Teens always shop at the mall." That notion is as antiquated as black and white "Sex Prep" ad campaigns by Abercrombie & Fitch. (It's ok dudes, you can put your shirts back on.)
And in case you were trapped under something heavy, Aeropostale management announced Thursday the closure of 75 Aeropostale stores in the fourth quarter, bringing its total store closures in 2014 to 120 stores. In 2015, Aeropostale will be closing approximately 50-75 additional doors.
Author take: In all my years covering this sector I have yet to encounter a retailer that CLOSED doors BEFORE Christmas. (Cue the soundtrack from JAWS).
Abercrombie too will be shuttering approximately 60 stores by the end of FY2015. This doesn't bode well for the entire teen apparel sector. And let's not even get started on REITS, people.
For reference: Here's a fun Black Friday video which called out Aeropostale, Abercrombie & Fitch and American Eagle Outfitters as losers into the holiday season.
What Went Wrong
There are several issues at play here that lead to the fall of the House of Abercrombie and Aeropostale.
First off: Lack of product differentiation.
In retail, this is called a "lack of point of view."
Hoodies. Jeans. Cargo Pants for the dudes, tissue thin tanks and skinny jeans for the chicks. Have the floor sets even changed since 2002?
From the dismal comps performance, apparently their consumers agree. Management simply underestimated the taste and preference of their target market.
Related Link: Why Black Friday Is No Longer Retailer's Holy Grail
Retailers that cater to teens and millennials must be nimble enough to change the products on the whims of their audience. Which is where "fast fashion" brands like Zara, Forever 21, and H&M, entered the market place like a demon cobra and seized the moment to steal market share.
The "fast fashion" retailers are simply bigger, faster and stronger than U.S. teen retailers who, to their peril, are stuck in 1998.
Lack of differentiation and the rise of "fast fashion" aside, there's more at play here.
Technology Is The New Fashion Statement
Where these retailers suffer from a lack of fashion, the target market has shifted their preference to technology as their fashion statement: The Nike (NYSE: NKE) Fuel Band, Apple (NASDAQ: AAPL) iPad, iPhone, Dr. Dre Beats Headphones, the GoPro (NASDAQ: GPRO) Hero with the 'Selfie Stick'—these are now the new status symbols for millennials –as well as their younger aspirational cohorts.
Apparel simply takes a back seat to technology and one can see that played out in real time in the market place in the performance of teen retail stocks like Aeropostale and Abercrombie & Fitch.
Omni Who?
And on the topic of technology, one has to mention that many of these retailers were VERY late to the game in implementing omnichannel strategies that would allow for a seamless shopping experience for the consumer from handheld to web to store and back.
Ironic considering how tech-savvy millennials are as a cohort.
So where does this leave the teen retail sector for the reminder of the year?
In the words of Clubber Lang: "My prediction? PAIN."
Posted-In: Dr. Dre Forever 21 GoPro HeroAnalyst Color News Retail Sales Top Stories Trading Ideas Best of Benzinga
View Comments and Join the Discussion!