Top 10 Biggest New Video Game IP Launches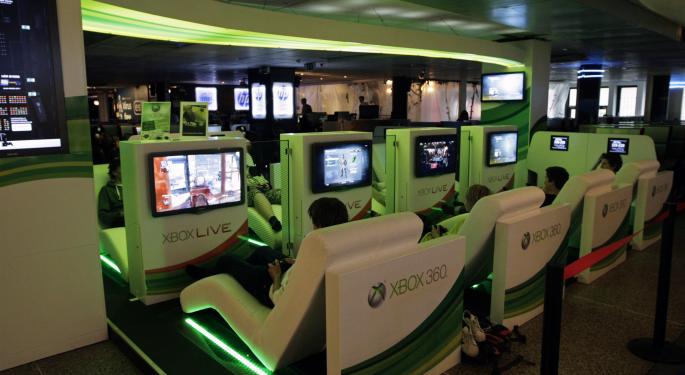 "Destiny," the long-awaited first-person shooter from the creators of "Halo," set a new sales record when it was released earlier this year. According to Activision Blizzard, Inc. (NASDAQ: ATVI), the game enjoyed the biggest launch of any new IP.
This announcement came only months after Ubisoft announced that "Watch Dogs" had become the biggest new IP. Ubisoft claims that while it lost the "biggest new IP" crown in North America and the United Kingdom, "Watch Dogs" maintained its sales status in Europe.
"The question on sales records is impossible to track," Wedbush analyst Michael Pachter told Benzinga. "Nobody ever publishes launch quantities for new IP, and this is a manufactured statistic."
Based on existing sales data and other information, Pachter estimated the following:
"Call of Duty" was likely the biggest new IP 10 years ago.
"Assassin's Creed" won that title six or seven years ago.
"Borderlands" may have done it six years ago.
"Red Dead Redemption" did it four years ago.
CRT Capital analyst Neil Doshi had some other games to add to that list, including "Titanfall," which reportedly helped Microsoft Corporation sell one million Xbox One consoles.
Related Link: Will Nasty Reviews Hurt Activision's 'Destiny'?
"'Titanfall' was the perfect example," Doshi told Benzinga. "It was a new IP created by the guys who created 'Call of Duty.' They created their own studio called Respawn and basically gave the rights to EA on that. It's only on Xbox, so a little bit limited in [sales potential]."
Read on to see which new video game franchises won big at retail.
1. Destiny
No one knows exactly how many units Activision has sold, but the company revealed that more than $500 million worth of "Destiny" games (which likely includes the special edition and console bundles) were sold to retailers in the first day.
VGChartz indicates that Activision has sold more than seven million units since the game was released in September. More than 4.4 million units were reportedly sold within the first week.
2. Watch Dogs
"Watch Dogs" has also achieved sales of seven million units. Four million of those units were sold in a week.
3. Red Dead Redemption
Some may wonder why "Red Dead Redemption" -- the spiritual successor to "Red Dead Revolver" -- is included in a list reserved for new IP. The answer is simple: "Redemption" practically invented the franchise. The original game sold a mere two million copies. "Redemption" sold nearly that many units in a week and went on to sell a total of 12 million units.
4. The Last of Us
"The Last of Us" may not receive any sequels. It is wholly possible that Naughty Dog will leave the survival/horror epic as is and move on to other projects.
Regardless, the game sold an impressive 1.3 million copies in a single week. Lifetime sales stand at 5.16 million units for the PlayStation 3 edition.
When the game was ported to PlayStation 4 this summer, it sold another 731,000 units -- also in one week. It became the best-selling game in August, despite being an upgraded version of a game that is more than a year old.
5. Assassin's Creed
Ubisoft's (OTC: UBSFY) hit franchise was a success from the start. The original game sold more than 1.2 million units across two platforms (Xbox 360 and PlayStation 3) during its first week at retail. With PC sales included, "Assassin's Creed" eventually sold around 11 million units worldwide.
6. Titanfall
"Titanfall's" lifetime sales currently stand at just 2.26 million units, but the game sold 900,000 units during its first week at retail.
7. Gears of War
"Halo" and "Call of Duty" often steal the spotlight, but their humble beginnings highlight the many sales challenges that new games face. "Call of Duty 2," for example, sold a mere 265,000 units at launch. That's a far cry from the millions units that today's "Call of Duty" games are able to move.
"Gears of War" is different. The series is much smaller than "Halo" and "Call of Duty" overall, but the original "Gears" sold a whopping 607,000 units in one week.
8. BioShock
Take-Two Interactive Software, Inc.'s (NASDAQ: TTWO) "BioShock" series started strong when it debuted in 2007. The company sold more than 500,000 units during its first week of availability, ensuring that a few sequels would be developed.
9. League of Legends
It's hard to gauge the success of a free-to-play game like "League of Legends." As of January 2014, more than 27 million people were playing the game every day.
"League of Legends…came out of nowhere," said Doshi. "That took the whole world by storm. You see a lot of people who used to play World of Warcraft go over to League of Legends. Blizzard is doing a lot of stuff to kind of bring people back."
10. Hearthstone: Heroes of WarCraft
"Hearthstone: Heroes of WarCraft" is another free-to-play success story. The game acquired 20 million players in roughly six months. This included the list of consumers that had already started playing the game during its beta. Regardless, Hearthstone is a hit.
"We think that's probably another $200+ million for [Activision Blizzard] right now," said Doshi.
Disclosure: At the time of this writing, Louis Bedigian had no position in the equities mentioned in this report.
Image credit: Microsoft Sweden, Flickr
View Comments and Join the Discussion!
Posted-In: Assassin's Creed Call of Duty CRT Capital Destiny HALOAnalyst Color Top Stories Tech Best of Benzinga