Can Best Buy Reinvent Itself As A Trendsetter?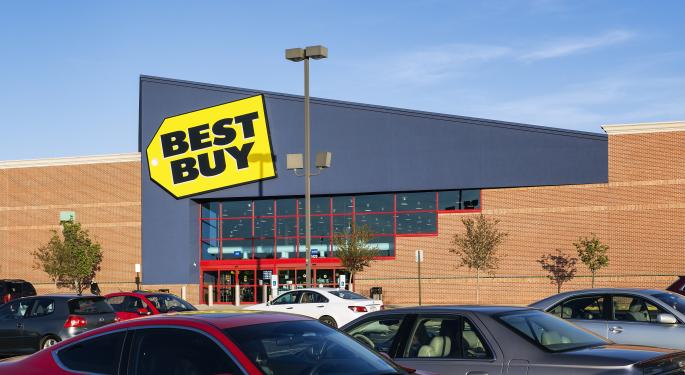 Best Buy Co Inc (NYSE: BBY) has struggled to stay relevant in a world that is slowly moving toward online retail, but the company has a few advantages that could be crucial to its future.
"I like their wireless play," Patrick Moorhead, president and principal analyst at Moor Insights & Strategy, told Benzinga. "They can essentially claim to be in -- actually are -- an intermediary to every carrier and pretty much every manufacturer of phones."
Moorhead also took notice of Best Buy's rush to jump on two of the fastest-growing trends in technology: wearables and home automation.
"I think where normally they would have been late to a trend and therefore making online the only place to get the newest products, they're actually ahead of the curve here," said Moorhead.
Related Link: Brian Sozzi Explains Why Best Buy Is 'Apple's Biggest Fan'
Fruits With Benefits
Wedbush analyst Michael Pachter said that Best Buy will benefit from Apple Inc.'s iPhone 6 "and recover from the dip in mobile phone sales they saw in the prior quarter."
"It's not enough to save them at holiday, as competition will be overwhelming and there is no meaningful product refresh to drive traffic," Pachter told Benzinga.
"All of the hype about Ultra HD/4K TV is merely hype; until 4K becomes the television broadcast standard (in 2017 or later), there is no reason for the average consumer to upgrade."
By then, Pachter said the difference in pricing between 4K and 1080p will be "very small."
"When people finally upgrade, it won't drive comps very much," Pachter added. "But it's years away, so it doesn't make any difference now."
Related Link: More Than 30,000 People Attended Nintendo's 'Smash Bros.' Event At Best Buy
'More Of The Same'
Tech industry expert and analyst Jeff Kagan expects Best Buy's Q3 results to look very familiar.
"I think it's going to be more of the same with Best Buy," Kagan told Benzinga. "Best Buy used to be a leader and they have to downsize their stores and they have to reinvent everything that they're doing."
Kagan said that he feels the marketplace still needs Best Buy. "The problem is [that] online is cheaper than Best Buy," he added.
"I'm not expecting any home runs, but I'm not expecting to see a failure. I hope they can reinvent… but we've been waiting and watching for them to reinvent over the last few years."
'Too Important To Fail'
Pachter has previously estimated that Best Buy could disappear in five or six years, but Moorhead thinks the company is "too big and important to fail."
"At its worst case, they're going to be showrooming for certain manufacturers who don't have the wherewithal to do retail," said Moorhead.
"Research will clearly show two things: if consumers are buying [something like] a TV, things you wear or things you have to touch (like a notebook), people feel a lot more comfortable going in and touching it before they buy it. That's the first thing that they have going for them.
"Second of all, they want a wide variety of brands to choose from. I think, again, at its worst case, you're going to have vendors paying a lot more money to Best Buy for showrooming to make it more economically viable for Best Buy."
Moorhead said that a lot of customers go into Best Buy, test out a product, leave the store and buy it online.
"If that showrooming goes away, those manufacturers know that they're gonna have to create their own stores, which is an absolutely expensive proposition," he added.
Disclosure: At the time of this writing, Louis Bedigian had no position in the equities mentioned in this report.
Posted-In: iPhone 6 Jeff Kagan Michael Pachter Patrick MoorheadAnalyst Color Previews Tech Trading Ideas Best of Benzinga
View Comments and Join the Discussion!