Apple And Alibaba: A Match Made In Heaven?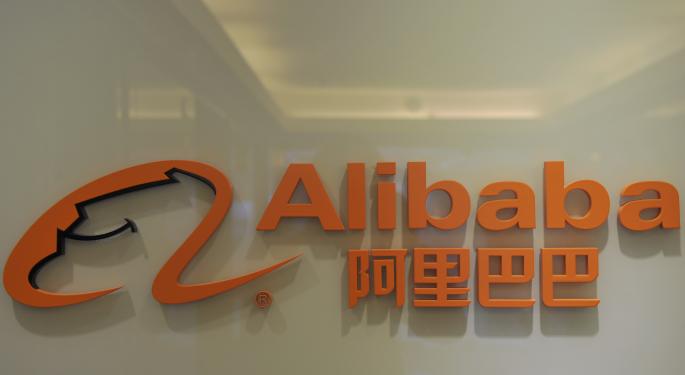 Will Apple Inc. (NASDAQ: AAPL) and Alibaba Group Holding Ltd (NYSE: BABA) -- two of the world's largest companies -- come together for a game-changing partnership?
"They both have something to seek out," Wedbush analyst Gil Luria told Benzinga. "Apple wants to sell a lot of iPhones in China, and Alibaba wants recognition and access to the West. They make very complementary partners."
CRT Capital analyst Neil Doshi thinks the potential partnership is interesting, but he isn't sure how it will play out.
"Alibaba is looking to partner with people here in the U.S.," Doshi told Benzinga. "I think they are trying to get more embedded with people here in the U.S. in terms of becoming a commerce provider. Working with Apple and becoming closer with Apple could help them expand their efforts."
Related Link: Is Apple Pay Safe?
PTT Research analyst Mark Gomes thinks this partnership "makes perfect sense." He told Benzinga that while Amazon.com, Inc. has the complete e-commerce infrastructure set up in the United States, Alibaba has the infrastructure on the other side of the world.
"Those are the infrastructure players," said Gomes. "Amazon [has] very unsuccessfully tried to get into the connectivity side with the Kindle Fire -- they're going to need to pivot. They don't have that kind of connection to the user that they need unless the user goes to Amazon. With Alibaba coming to town it's going to be prohibitively difficult for them."
Gomes added that while Alibaba has a lot going for it, it is missing that element of connectivity. Apple has that covered but needs access to new customers, which Alibaba could provide.
Competitor Or Companion?
There are several possibilities, but Luria said it is hard to imagine what Apple and Alibaba will actually do together.
"Apple Pay, at least where it's headed, would be a competitive product to Alipay. I'm not necessarily sure that that's the best area for them to cooperate," he said. He added that Apple and Alibaba are more likely to team up to reach new consumers in new territories.
"There's a lot of opportunities there, whether it's Apple opening a store on Tmall or some other type of cooperation, possibly around media or iTunes access," Luria added. "Those are the more likely things that I think they can cooperate on."
Doshi, on the other hand, thinks Alibaba could use Apple Pay to its advantage.
"In China, a lot of people end up using pre-paid cards for things," said Doshi. "Maybe the way to work with Apple is an Alibaba pre-paid card for buying items that's stored on your iPhone. When you go to pay, you pay with your Alibaba pre-paid card for items in China versus carrying around cash everywhere.
"Given Alibaba's deep relationships with smaller merchants and vendors, that might be a nice entrée for Apple to expand Apple Pay into the Chinese market as well."
Disclosure: At the time of this writing, Louis Bedigian had no position in the equities mentioned in this report.
Posted-In: Alibaba Apple Gil Luria Mark Gomes Neil DoshiAnalyst Color Tech Best of Benzinga
View Comments and Join the Discussion!