New Mobile Payment Start-Up Takes On Coin And Plastic -- But Not Apple Pay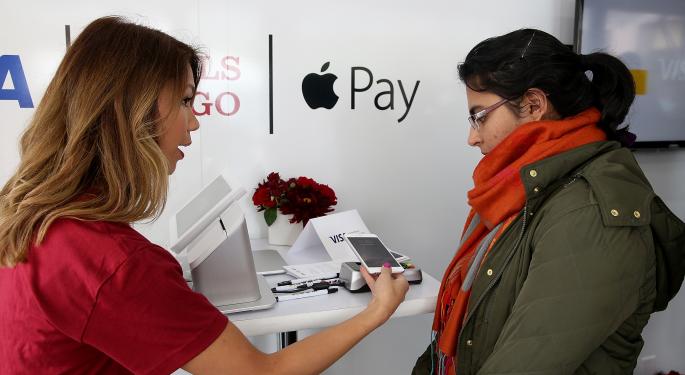 Stratos, a new mobile payment start-up, has been quietly working on its connected card for two years. During that time, several other companies -- including Coin and Plastic -- have revealed their products, hoping to take control of the market.
The biggest announcement came on September 9 when Apple Inc. (NASDAQ: AAPL) unveiled its mobile payment solution, Apple Pay. Analysts think it could be the very successful.
Despite the competition, Stratos isn't worried. "We definitely don't view ourselves as a competitor to Apple Pay," Thiago Olson, co-founder and CEO of Stratos, told Benzinga. "Certainly we're in the mobile wallet space. We're really excited about a lot of the innovation that's happening."
Olson credits Apple Pay with validating the mobile payment and connected hardware markets. "[Our payment solution] is a connected device as well," Olson added.
"The interesting part is, instead of a [phone or] smartwatch that is dependent on the NFC infrastructure, we're in a form factor -- the card form factor -- so you can fit this into an ATM and use it just like you would a normal card. It's backwards compatible with the current infrastructure. I think a lot of wallets could benefit from a solution like this that works everywhere you normally need a card to work."
Related Link: Is Apple Pay Safe?
Big Investments
Stratos recently secured more than $5.8 million from investors, including Toba Capital Partners and Hyde Park Venture Partners.
"We're sitting in between two different markets," said Olson. "It's a connected hardware start-up. It's essentially a hardware start-up and a software start-up. You have to do both to make the whole platform. There's capital expenses there. This funding will [allow us to] accelerate and scale our recruiting." Olson said that Stratos (which is based in Ann Arbor, Michigan) is currently looking to add at least 10 individuals to its team.
'Ambitious Security Tech'
Stratos has set its sights on creating "some pretty ambitious security tech" -- but don't expect Olson to talk about it yet. "I can't release details about the actual product and security that we're using until we actually unveil the product and launch, but security is a top priority," said Olson.
"We're focused on making this card more secure than anything you carry in your pocket. If you think about cards today, your account number is written right on the front of the card. It's amazing how insecure the current technology is. We're looking to improve on it."
Disclosure: At the time of this writing, Louis Bedigian had no position in the equities mentioned in this report.
Posted-In: Apple Apple Pay Stratos Thiago OlsonAnalyst Color Tech Best of Benzinga
View Comments and Join the Discussion!