Stop Writing Bad Emails With These 5 Analyst Tips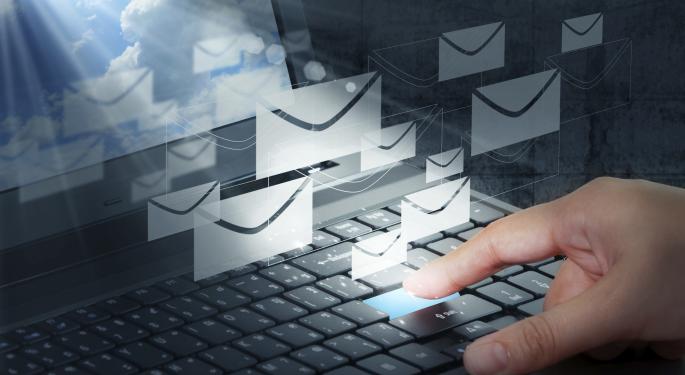 Analysts receive hundreds of emails every single day. Have they figured out how to manage the madness? And if so, what could others learn from their success?
Benzinga recently reached out to a few analysts to see how they handle the influx of electronic messages.
1. Delete Everything
If you don't want your inbox to look like Jake Peralta's tub full of mail, Wedbush analyst Michael Pachter has a solution.
"I get 600 [emails] a day," Pachter told Benzinga. "I put every unwanted sender into junk, around 50 a day. I read and delete every other email, unless a response is required, and diligently reply as I can throughout the day or at day end at the latest.
"If the email has interesting info (such as an earnings release), I put it in a folder within Outlook (look up PST folders in the help menu). Once a week, I delete everything in my inbox that doesn't require further action."
Related Link: What Do The iPhone 6 And P85D Have In Common?
2. Constantly Check For New Messages
FBR Capital Markets analyst Daniel Ives consistently checks his email every day, starting at 6:00 a.m. He keeps going for 14 hours, finally stopping at 8:00 p.m.
"[I] try to respond as quickly as possible," Ives told Benzinga. "With hundreds of emails [each day], I try to quickly digest the important vs. fluff emails and respond accordingly."
During market hours, Ives said that his iPhone (which has all his emails) is attached to his body.
3. Take Your Time And Make Calls
Brian Sozzi, CEO of Belus Capital Advisors, has received an increasing number of daily emails. He has two ways of dealing with them.
"In a way, all of the emails are signs of people being interested in [the] product/service/projects you are working on," Sozzi told Benzinga. "No emails means whatever your outreach is, it's falling on deaf ears.
"I think even though it's tough because we all want to reply quick and get that instant gratification, one has to set aside time in the evening to answer all emails not related to your direct team. Or have your team do a profound thing: pick up the phone, old school, and give you a call so as to reduce emails."
Related Link: Will Apple Inc., Others Thwart Amazon.com, Inc.'s Smart Home Plans?
4. Use Built-In Tools
Another analyst (who asked not to be identified by name) manages email by taking advantage of the basic file system in Outlook.
"I tag nearly all of my recurring messages to go into certain folders: news, earnings releases, events (each one has their own folder)," the analyst told Benzinga. "So all of the daily feeds about those things go directly into their proper place and never hit my inbox. That way the correspondence I need to take action on each day is readily apparent and doesn't get lost in the deluge of press releases, news digests, event announcements, etc.
"It helps. Like today, after a crazy morning I can get all of the correspondence addressed without having to dig through a morning's worth of those recurring messages."
5. Delete Emails With Sketchy Subjects
Sean Udall, CIO of Quantum Trading Strategies and author of The TechStrat Report, reads the email "headlines" (subjects) to determine the message's worth.
"I delete many/most before I even read the body of the email," Udall told Benzinga. "Then I time block and handle them a few times a day for short burst of dedicated time. Lastly, I rarely (if ever) forward junk/joke/pics-type emails."
Udall said this allows him to handle hundreds of emails a day in a short period of time.
Disclosure: At the time of this writing, Louis Bedigian had no position in the equities mentioned in this report.
Posted-In: Belus Capital Advisors Brian Sozzi Daniel Ives FBR Capital MarketsAnalyst Color Top Stories Be Your Own Boss Tech Best of Benzinga
View Comments and Join the Discussion!