Clicks To Bricks: The Amazon Store Could Usher In 'A New Era' For The Retail World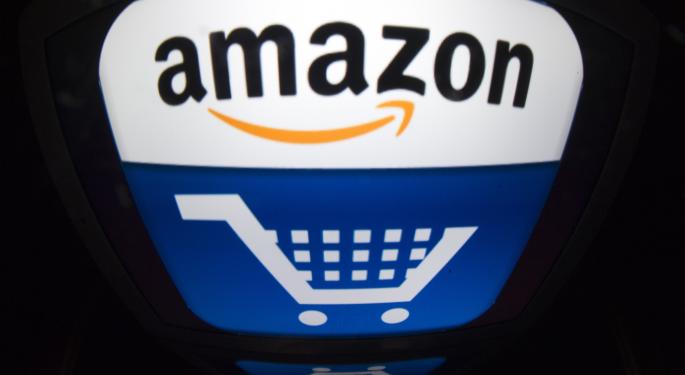 Amazon.com, Inc. (NASDAQ: AMZN) is expected to open a physical store in New York City this year, marking the company's first attempt to venture outside of the dot-com realm.
Little is known about the store, which could serve as a warehouse for same-day pickup and delivery.
"Why go into the retail space?" tech industry expert and analyst Jeff Kagan questioned. "Was it part of Amazon's long-term strategy to put many of their retail competitors out of business or weaken them and then come into the retail space in addition to the online space and really take over the retail environment?"
Related Link: Will Apple Inc., Others Thwart Amazon.com, Inc.'s Smart Home Plans?
Kagan told Benzinga that Amazon is likely impressed by the success that Apple Inc. and other companies have had at retail.
"Amazon.com is not the same model," Kagan added. "They were an online business, so this is not a guaranteed success story. But it's very interesting."
'Small Bets'
Sean Udall, CIO of Quantum Trading Strategies and author of The TechStrat Report, compared the Amazon store rumor to the company's Fire Phone.
"It's Amazon doing what they're doing and making a lot of small bets," said Udall. "Some will work; some won't. I was pretty darn critical of them trying the phone. I thought it was a mistake and was going to be a waste of money."
In order to succeed, Udall thinks Amazon will have to use big data to determine the best-selling items -- and then stock those items in-store.
"They'd have to get cool and creative and do deals with companies and feature hit products," said Udall, adding that Amazon may be better off investing in more M&A deals. "I don't know if this is as bad of an idea as the phone. I thought the phone was a terrible idea. The only idea that was equally bad was probably the Facebook phone that HTC made. Those two were grand-slam terrible ideas."
Related Link: Is Carl Icahn Good For Apple Inc.?
The Best Brand Wins
According to Kagan, the brand is why customers visit an Apple Store. They would visit Amazon for a very different reason: product variety.
"Amazon also sells a gazillion different things and no retail store has the room on the shelves for all that," said Kagan, "So what are they gonna carry? Are they gonna carry just the hot sellers, top sellers? Would that be enough?"
Kagan is also concerned about what will happen to the future of retail as companies shift to online sales.
"One of the worries that I have had over the years is the only way to buy anything five years from now, 10 years from now is online," he said. "That's a worry because people need to see and touch and feel devices or the things they wanna buy and you can't do that online."
In that sense, Kagan believes Amazon's store could "usher in a new era in the retailing world."
Disclosure: At the time of this writing, Louis Bedigian had no position in the equities mentioned in this report.
Posted-In: Amazon comments Jeff Kagan retail Sean UdallAnalyst Color Top Stories Tech Best of Benzinga
View Comments and Join the Discussion!