The Next Obstacle For Tesla Motors Inc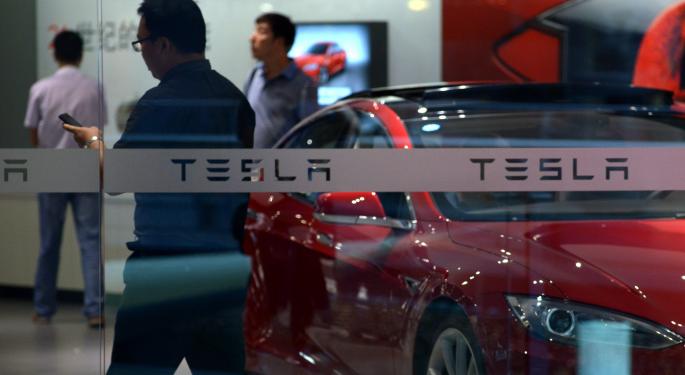 Tesla Motors Inc's (NASDAQ: TSLA) stock has had quite a ride of late.
A near-7 percent decline over the past week has forced investors, traders and analysts to think a bit harder about what the electric vehicle-maker's future holds.
Earlier this summer, Tesla made headlines when it announced its patents would be available to anyone "in good faith." By helping the auto market evolve alongside the company, the theory is that greater EV adoption can lead to charger standardization and better battery sales.
A rosy long-term macroeconomic picture doesn't mean there won't be shorter-term challenges, though. As PayPal co-founder Peter Thiel recently explained, the best companies often face temporary obstacles they must overcome to be successful.
Tesla has had its fair share in the past, ranging from vehicle fires to a very public dispute with The New York Times.
The Next Obstacle
So, the big question is: What obstacle is next?
The most obvious candidate is legal challenges related to Tesla's sales strategy.
Unlike many automakers, the company circumvents the traditional dealership model and sells its cars directly to buyers. CEO Elon Musk explained why in a blog post nearly two years ago, and the reasoning hasn't changed.
"By the time most people decide to head to their local dealer, they have already pretty much decided what car they want to buy, which is usually the same make as their old car. At that point it is largely just a matter of negotiating with the dealer on price," Musk wrote at the time.
He added: "Tesla, as a new carmaker, would therefore rarely have the opportunity to educate potential customers about Model S if we were positioned in typical auto dealer locations."
By removing dealers from the equation, the company also avoids any associated "holdback" fees, which typically range between one and three percent for each car sold, according to Edmunds.
Unfortunately for Tesla, though, this strategy is limited by states' legal systems. More than 40 states have a type of restriction on direct auto sales. In April, New Jersey banned the practice, eight months after Texas did. Virginia, Arizona and Maryland also ban direct sales, Forbes reported.
A select few are in Tesla's corner. The company has been on the winning side in Minnesota, Massachusetts, Missouri, North Carolina and Nevada.
Related Link: Elon Musk Says His Cars Could Be Fully Automated Within 5-6 Years
What Do Analysts Think?
Under a best-case, long-term scenario, Tesla could remedy the situation in all 50 states and reach more U.S. consumers in the process. While that's unlikely to happen in the immediate future, there's always the possibility more state governments relax their rules over time.
FBN Securities, which holds an Outperform rating on the stock with a $325 price target, echoed this sentiment in a recent research note. "We believe that there will be victories and setbacks going forward, but over time we think that selling barriers for TSLA should diminish," FBN analyst Shebly Seyrafi wrote on September 8.
Stifel Nicolaus is even more bullish on the company. The firm upgraded its rating on Tesla from Neutral to Buy on September 2, with a $400 price target.
Stifel didn't specifically comment on direct selling, though analysts did up 2017 vehicle sales forecast from 98,000 (Model S and Model X) to 111,000. The firm cited brand recognition and a lack of true competition as reasons for the boost.
What's Next?
From a public opinion standpoint, the momentum appears to be heading in Tesla's direction. This July, a petition asking the White House to allow direct sales throughout the U.S. notched more than 138,000 signatures and prompted a response.
"[W]e understand that preempting current state laws on direct-to-consumer auto sales would require an act of Congress," Dan Utech, Special Assistant to the President for Energy and Climate Change, wrote at the time, before ultimately nixing the idea.
A 2013 poll from the Austin Business Journal, meanwhile, indicates 86 percent of readers supported direct Tesla sales at that time.
A day may come when the majority of government officials, on the state and federal level, agree.
Disclosure: At the time of this writing, the author had no position in the equities mentioned in this report.
Posted-In: Dan Utech Elon Musk FBN Securities Shebly SeyrafiAnalyst Color Top Stories Analyst Ratings Tech Best of Benzinga
View Comments and Join the Discussion!