What The Experts Think Of The Apple Inc. Watch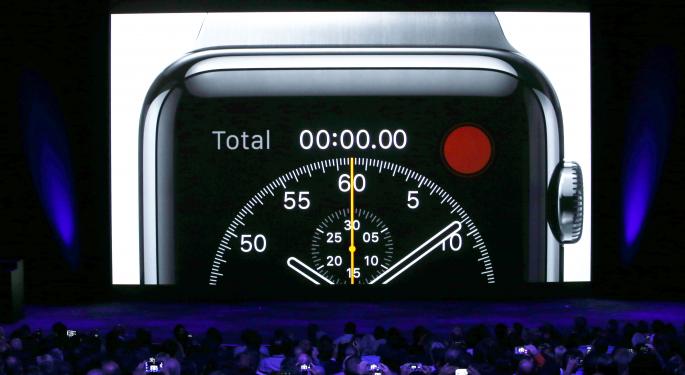 Apple Inc. (NASDAQ: AAPL) lived up to the hype Tuesday and officially announced its entry into the smart watch space with the Apple Watch. According to the company, the wrist-based device will have three iterations with a starting price of $349.
Forbes pegged the size of the smart watch market at $2.5 billion earlier this year, which, it says, is about five percent of the entire watch industry. Assuming Apple can grab a piece of this pie, there's millions of dollars on the table.
If the company can pull more users into the fold, it could make even more money. Amit Daryanani, an analyst with RBC Capital Markets, once told CNBC an Apple smart watch could generate $9 billion in revenue in its first year. Other estimates are even more optimistic.
What do the experts think about the Apple Watch after this afternoon's festivities? There's a mix of opinions.
Some are optimistic:
Like it or not, it is pretty cool that the Apple Watch does get us one step closer to the Jetsons-esque future we've all dreamed of.

— Ryan McCaffrey (@DMC_Ryan) September 9, 2014
My comment on @StreetSignsCNBC on Apple Watch: We don't know what it cost, we don't know what it does, but everyone needs one.

— Steve Liesman (@steveliesman) September 9, 2014
If the Apple watch gets mass adoption, everybody will be walking down the streets looking a caricature of a very busy person.

— Justin Paterno (@zerobeta) September 9, 2014
It seems absolutely obvious to me that Apple's watch is an absurd, near-useless device. Everyone will have three this time next year.

— Dan Gardner (@dgardner) September 9, 2014
Apple just killed the entire smart watch market until next year. Have fun, everyone else. That was COLD.

— Ben Kuchera (@BenKuchera) September 9, 2014
Agree @arankin: Apple Watch could be great for kids. Track them, send uber, pay for meals, message. $aapl

— howardlindzon (@howardlindzon) September 9, 2014
The wrist is indeed an interesting place.

— Horace Dediu (@asymco) September 9, 2014
Others, though, not as much:
I wish $AAPL would put Apple Watch in a standalone company so I could short it.

— Kid Dynamite (@KidDynamiteBlog) September 9, 2014
Bottom Line: The Apple Watch unlike prior products at the company are not a "must have." $AAPL

— Douglas Kass (@DougKass) September 9, 2014
Apple Watch requires iPhone. Haven't we outgrown this closed ecosystem stuff yet? $aapl

— Matt Krantz (@mattkrantz) September 9, 2014
The Apple Watch is $AAPL's riskiest product launch since the Newton

— Jon Fortt (@jonfortt) September 9, 2014
What was missing from #AppleLive? No mention of battery life or connectivity in Apple Watch unveiling. $AAPL

— Philip Elmer-DeWitt (@philiped) September 9, 2014
I can't see any reason for buying the new Apple watch. "It does everything your phone does, in a smaller format that's harder to control!"

— Paul Szoldra (@PaulSzoldra) September 9, 2014
A few are simply worth the read:
Just walked down the straight with my iPhone duct taped to my wrist to practice talking into Apple Watch

— Brian Sozzi (@BrianSozzi) September 9, 2014
You mean its the pocket protector of 2014? RT @DasanRedux: I would call that Apple Watch the perfect birth control device.

— Jon Najarian (@optionmonster) September 9, 2014
Posted-In: Apple Watch social media curationAnalyst Color News Events Best of Benzinga
View Comments and Join the Discussion!