How GameStop Has Been Successful Amid The Rise Of Click-And-Mortar Stores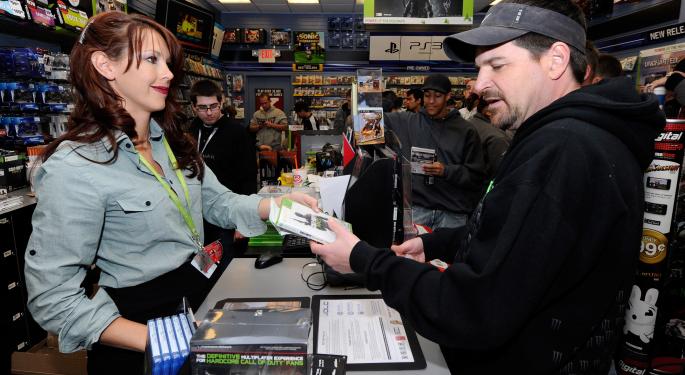 GameStop (NYSE: GME) is one of the few specialty retailers that has been able to weather the dot-com storm. It is also the only publicly traded, billion-dollar retailer (with physical stores) that was founded in 1994.
Amazon was founded in 1994 as well, but big-box retailers -- online or offline -- have not been able to sell as many games as GameStop.
During the first quarter, GameStop reported total global sales of $2 billion. This represented a seven percent increase over the year-ago period, which is notable considering that new software sales declined 20.4 percent. GameStop blamed this on the lack of triple-A releases. On the upside, pre-owned/value software sales increased 5.3 percent year-over-year.
Related Link: Did Sony's PlayStation 4 Save GameStop?
Why Aren't Consumers Going Online?
The Portland Press Herald recently published a story about the so-called "click-and-mortar" retailers. Nasty Gal, Birchbox, Bonobos and JustFab started as dot-com properties but eventually opened at least one physical store.
This suggests that consumers want an actual store to visit -- a place where they can go and purchase specific items.
NPD Group confirmed this assumption when it released the findings of its latest study in May 2014. The market research company reported that 74 percent of gamers prefer discs over digital games.
In October, IGN asked its readers if they would go "all digital" with the next-generation game consoles. While 36 percent indicated that they would purchase both digital and physical games, 54 percent said that they would not be switching to digital. Only 11 percent planned to purchase games exclusively online.
EA Access Won't Hurt GameStop
Wedbush analyst Michael Pachter doesn't think that Electronic Arts' new service, EA Access, will have much of an impact on GameStop. He compared this concern to by-mail food services that threaten to destroy a supermarket.
"You're not gonna sign up for a bread subscription and a milk subscription and a meat subscription -- you want 'em all, and you don't want to deal with it," Pachter told Benzinga. "The problem is that an individual vendor doesn't have enough critical mass of sales to a customer to actually justify the subscription."
Thus, Pachter said that the answer is "no" -- EA Access will not have any impact on GameStop's sales.
"Nobody buys enough EA games to care," he added. "But over time, when they give you enough old content that you would think is of value, then maybe. Initially, no. The problem is, it can't be a good deal for the consumer and a good deal for EA."
Role Reversals
In order to survive, GameStop may be forced to evolve. Its future form could be similar to Netflix or iTunes -- an online hub for streaming or downloading games.
In the meantime, Amazon, eBay and Google are among the dot-com giants that have been moving in the opposite direction. All three have experimented with concepts for physical retail stores.
"I think that gift-givers like retail," said Pachter. "Gift-givers like physical. Nasty Gal is physical -- who gives a sh*t if they fulfill it by mail or fulfill it in the store?"
Apple has made billions by selling its own products in its own stores. Sony has not been nearly as successful.
Software is another story. It doesn't need to be physical, which is one of the reasons Apple doesn't promote software in its stores. Sony didn't either, for that matter -- the company chose to focus on TVs, computers and other expensive items.
Related Link: Don't Expect A New Nintendo Console Before 2018
Five Years To Thrive
Benchmark analyst Michael Hickey estimates that digital downloads could replace physical game discs in the next five years.
"I think the trend is people are embracing digital as a form of delivery, especially with next-gen consoles," Hickey told Benzinga. "You're seeing the behavior start to change and adoption rates of digitally downloaded content increase. I think the trend is away from physical, it's towards digital, and ultimately that will likely dislocate [GameStop's] businesses as games distribution goes completely digital over the next five years."
If Hickey's prediction is correct, GameStop would have five more years (or less) to bank on its current business model. He isn't quite sure how the company could survive beyond this, however.
"I think they've been very successful in selling DLC [downloadable content] at the point of sale, there's no question," Hickey added. "Along the way they've found intermediate steps in terms of driving digital pieces of business. Ultimately it's in the publisher's interest, developer's interest, and first-party's interest to control that sort of retail ecosystem. [I think] that necessity of retail is, over time, just going to go away."
Disclosure: At the time of this writing, Louis Bedigian had no position in the equities mentioned in this report.
View Comments and Join the Discussion!
Posted-In: Benchmark comments gamestop Michael Hickey Michael PachterAnalyst Color Success Stories Tech Best of Benzinga