Ford's Defection From BlackBerry: More Than Just A Change In Smartphones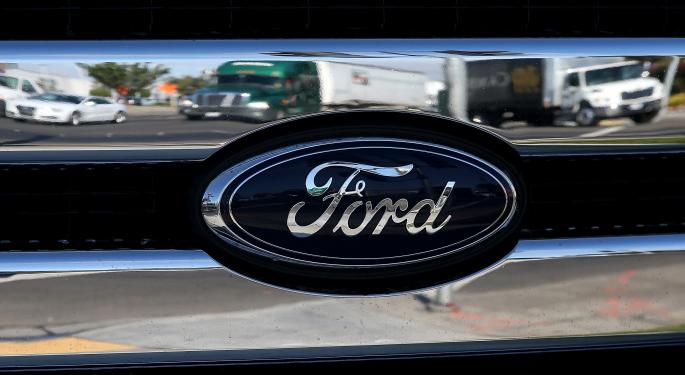 Another blow for BlackBerry (NASDAQ: BBRY), another win for Apple (NASDAQ: AAPL) -- Ford (NYSE: F) announced it will replace 3,300 of its employees' BlackBerry devices with iPhones by the end of the year, with another 6,000 smartphones to be switched over within the next two years.
"We are going to get everyone on iPhones," Ford spokeswoman Sara Tatchio told Bloomberg this week. "It meets the overall needs of the employees because it is able to serve both our business needs in a secure way and the needs we have in our personal lives with a single device."
This is just the latest punch in the gut for BlackBerry. Earlier this month, IBM (NYSE: IBM) and Apple announced a deal to have IBM sell iPhones and iPads.
Related Link: Overseas Automakers Scored Well With Consumers During World Cup
Ford is just the latest company to defect from BlackBerry to Apple. Last year, Home Depot made the switch, giving out iPhones to its employees.
Beyond Phones
Ford isn't rejecting all of BlackBerry's products just yet. according to CNet, Ford has been considering powering the next generation of its Sync navigation, communication and entertainment system with BlackBerry's QNX operating system instead of the Microsoft (NASDAQ: MSFT) software it currently uses for its vehicular entertainment systems.
"What's interesting is that BlackBerry bought QNX because of its ability to produce in-car interface systems," Karl Brauer, senior analyst for Kelley Blue Book's KBB.com, told Benzinga.
"So even as people are abandoning BlackBerry phones (which I think the company knew was inevitable), the automakers are considering QNX for use as the in-car control interface."
Brauer believes Ford is supporting the switch from BlackBerry to iPhones because of Apple's CarPlay system, which connects the iPhone to the car's built-in display.
Others see the Ford shift away from BlackBerry as part of the larger picture, as more tech giants like Apple and Google (NASDAQ: GOOG) (NASDAQ: GOOGL) become involved in smart-car development.
"Apple is making a big push into corporate use of smart phones and tablets that will be vital as car-shopping moves increasingly to mobile devices," Michelle Krebs, senior analyst for AutoTrader.com, said in an email to Benzinga.
"AutoTrader.com and KBB.com expect car shopping on mobile devices to increase from today's 30 percent to 60 percent by 2017," she added. "Apple is making other moves into the automotive business, which it long has avoided, with its CarPlay system."
Posted-In: auto navigation technology automotive automotive industry automotive technologyAnalyst Color Travel Tech General Best of Benzinga
View Comments and Join the Discussion!