Electronic Arts' New Service Is A 'Non-Event' That's Unlikely To Impact Sales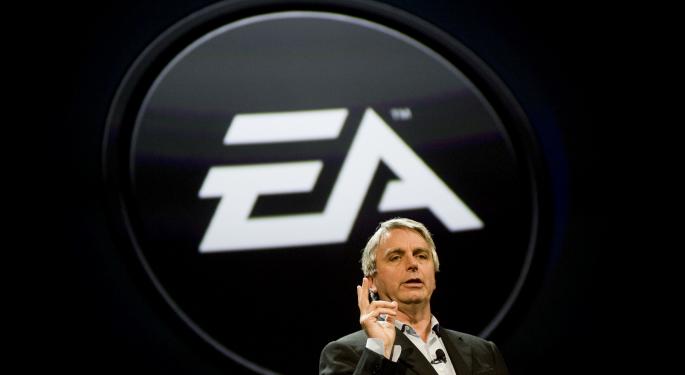 Electronic Arts (NASDAQ: EA) announced a new subscription service on Tuesday, furthering the belief that downloads and streaming will be the future of video games.
The service -- officially known as EA Access -- has gained a lot of media attention, in part because it is currently exclusive to Xbox One. The media firestorm continued after a Sony (NYSE: SNE) representative told Game Informer that the company evaluated the service and determined that it "does not bring the kind of value PlayStation customers have come to expect."
"[It's] pretty much a non-event," Wedbush analyst Michael Pachter told Benzinga. "Very limited offering (only EA games, only on Xbox One, mostly one year old), albeit at an inexpensive price. I don't see EA offering this if it impacts sales of games. If it doesn't impact, then the value isn't that great for the consumer."
Related Link: Is Electronic Arts Serious About Virtual Reality?
Competitive Pricing
EA Access will be available for $4.99 per month or $29.99 for the whole year. The subscription service will launch with four games free: FIFA 14, Madden NFL 25, Peggle 2 and Battlefield 4. Subscribers will receive a 10 percent discount on new game downloads that aren't included with the service.
As a bonus, EA will also allow subscribers to play several new games five days before they become available. Access will be terminated once those games (such as Dragon Age: Inquisition) become available, but users can save their progress and purchase the full games to continue playing.
Is 'Now' The Right Time To Go Online?
Consumers tend to prefer an all-you-can-eat model over one that involves individual charges. That's why 50 million people pay to stream Netflix. OnLive and other companies have attempted to do the same for video games, but they ultimately failed.
EA hopes to succeed where others have not. By focusing on older games, the company can afford to charge a fairly low price. This will make the service more attractive to consumers, who could buy Madden NFL 25 for $29.99 at GameStop or subscribe to EA Access for an entire year.
On the other hand, some consumers won't be interested in playing last year's sports games, regardless of the price. Those consumers may be unwilling to subscribe until EA finds a way to sweeten the deal without cannibalizing the sale of new games.
Sony -- which has currently denounced EA Access -- is set to launch PS Now (its own online game service) in 2014. The open beta begins on July 31 with a la carte rental fees that range from $2.99 (for a few hours of play) to $19.99 (for a few weeks/months).
PS Now will eventually offer an all-you-can-eat subscription, but Sony has yet to announce the pricing or availability of that option.
Disclosure: At the time of this writing, Louis Bedigian had no position in the equities mentioned in this report.
Posted-In: comments EA EA Access electronic arts Michael Pachter PS NowAnalyst Color Tech Best of Benzinga
View Comments and Join the Discussion!