Dennis Gartman On The Bull Market, Gold And Why The Market Is Not Rigged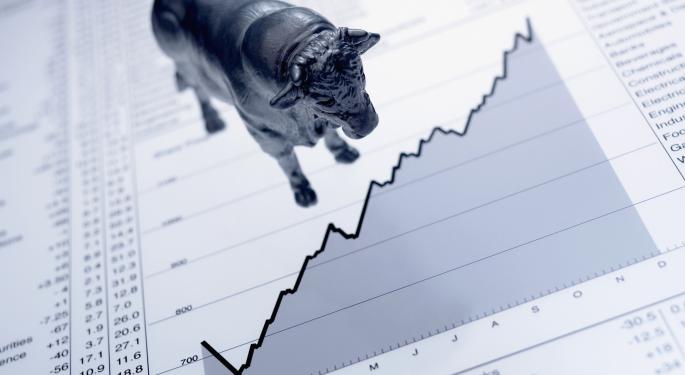 Despite the number of people remaining bearish, Dennis Gartman says it's still a bull market out there.
Gartman has been writing his daily financial trading commentary, "The Gartman Letter," every day for the past thirty years -- with the single exception of his parent's 50th wedding anniversary. He was also recently a guest on Benzinga's #PreMarket Prep show, where he discussed his take on the bull market.
"It will stop when it stops, and it won't stop an instant before then," he said. Sometimes, you have to be that simplistic, Gartman said. "This (market) continues to go up," he said. "It continues to move from the lower left to the upper right."
While the monetary authorities continue to expand the supply of reserves, the demand for plant, equipment and labor is not strong enough yet, Gartman said. Therefore, those reserves are finding their way into the capital markets.
Dennis Gartman's 22 "Rules of Trading: http://t.co/345Th6Oh

— Gartman Letter (@gartmanletter) October 18, 2012
Fed Fueled Bull
But it's still a bull market, and Gartman is both amused and dismayed by how many smart people remain bearish. He said it would be much better if the economy was self-sustained and monetary authorities weren't as aggressive as they have been.
"But they have been. They are, and to fade the market because of the monetary authorities being aggressively expansive is a mug's game and loser's game," he said. "A very bad game."
The bull market will continue until trend lines are broken and people stop making new highs when they break and take out a previous low, he said. His advice is to keep it simple.
"Understand the economy is doing reasonably well," he said. "Not phenomenally well, not extraordinarily well. But nor is it doing poorly."
Related Link: One Forex Trader's Tips On Trading Currencies
A currency by any other name
This isn't bad news for gold, Gartman said. He follows gold very closely, and also thinks it's misunderstood. Gold is no better nor worse than the euro, the U.S. dollar, the British pound Sterling or the Chinese renminbi, he said, and is nothing more than another currency.
Gartman says that thinking of gold as a currency whose value goes up and down relative to other currencies -- and not a safe haven or something that moves because of inflationary or deflationary pressures -- will make people better traders.
He's quite bullish of gold in euro terms, and very bullish in terms of the yen.
He's relatively neutral to gold in terms of the U.S. dollar. But, for the first time since November 2011, gold has stopped going down and started to move sideways in terms of the U.S. dollar. It might even start to move quietly upward, Gartman said.
Michael Lewis and rigged markets
The markets are not rigged, Gartman said.
"What a silly comment that was," he said, referring to Michael Lewis asserting that the markets are rigged. "He's an idiot."
In fact, Gartman thinks that high frequency traders should be applauded because they have brought spreads down to pennies instead of eighths and quarters. They also offer liquidity when it sometimes seems to vanish, he said.
Related Link: TheStreet's David Peltier On Investing In Stocks Under $10, Picking Dividends And Apple
The term "rigged" implies that the public is being ill-treated. But Gartman said the public is getting a better deal now than it has ever gotten because people are paying less in brokerage and smaller bids and offers, making the market so much of a fairer game than it has ever been.
"I say, God bless the high frequency traders," Gartman said. "I know I make many people angry with that but I really don't care."
Check out the full interview here:
View Comments and Join the Discussion!
Posted-In: Benzinga #PreMarket Prep comments Dennis Gartmen Gold HFTTop Stories Trading Ideas Interview Best of Benzinga