Amazon's Firefly Could Be A 'Game-Changer'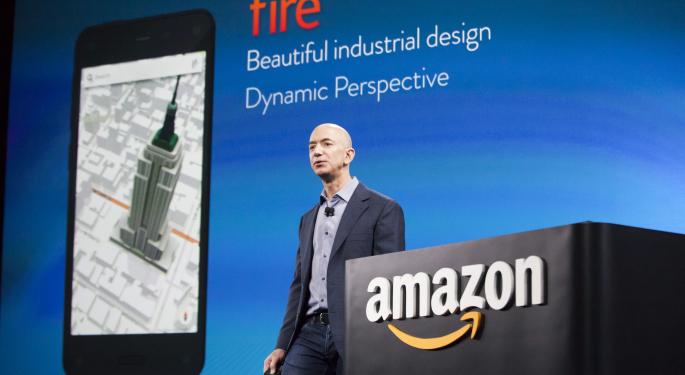 Amazon's (NASDAQ: AMZN) upcoming smartphone has been heavily criticized by leery analysts, but its primary feature could help the company persevere.
"With the Fire Phone, the most interesting thing for me was the Firefly button," Juniper Research analyst Steffen Sorrell told Benzinga. "That could become a game-changer."
The Fire Phone contains a number of unique features, including six cameras and four infrared lights. Critics have argued these elements are nothing more than gimmicks that will be unable to persuade iPhone loyalists to switch devices.
Dynamic Perspective, the much-hyped 3D interface feature that has been associated with Amazon's phone for more than a year, may not prove to be the selling point that Amazon had anticipated.
"The 3D [feature] is nice, but is it really going to drive consumer adoption?" Sorrell questioned. "I don't think so."
Related: Amazon Could Lose Money On Fire Phone Sales
Sorrell feels the worst part of the device is its price point. He said that, while Amazon was previously willing to take a loss on hardware (and make up for it later with e-book or software sales), the Fire Phone is fairly expensive.
"The price point immediately positions it as a medium- to high-end device," said Sorrell. "I think it will be difficult for them to gain traction. The thing that may turn that around is the Firefly button, where you have this kind of visual search enablement."
The Fire Phone could also get a boost from a partnership with other companies and/or retailers.
"I had an idea that Amazon could partner with retailers in order to drive sales in using [Firefly]," said Sorrell, noting that this is only speculation.
"For example, if you were in a bar or café and you see a device that you like, you can scan it with a button," he added. "It could be an iPhone. Then you're giving both Amazon and Apple a profit, so they both benefit from that kind of solution. That would, perhaps, lead to a partnership."
Disclosure: At the time of this writing, Louis Bedigian had no position in the equities mentioned in this report.
Posted-In: Amazon Apple comments Dynamic Perspective Fire Phone FireflyAnalyst Color Tech Best of Benzinga
View Comments and Join the Discussion!