Will Sony's PlayStation Dominance Continue Throughout 2014?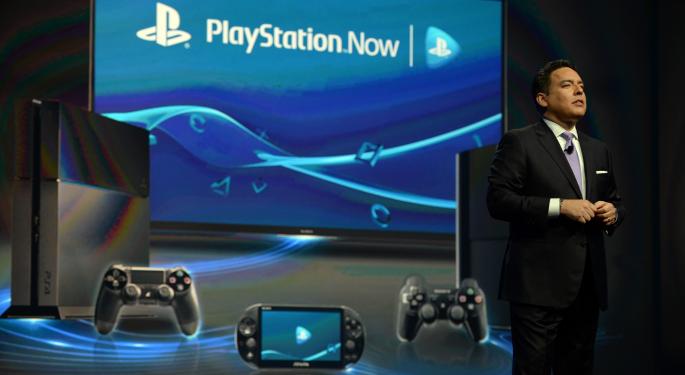 Sony (NYSE: SNE) sold more new game consoles than any of its competitors in 2013. Can that winning streak continue for another year?
The answer could be found within the company's press event at the Electronic Entertainment Expo. The annual trade show is used by Sony and other game developers to promote the latest software and hardware to retailers, reporters and analysts -- and by extension, consumers.
Last year, Sony used two press conferences (one in February and one before E3 in June) to promote its newest console, PlayStation 4. That strategy worked very well -- between November 2013 and early May 2014, Sony sold seven million units.
Related Link: Should Nintendo Build New Consoles For Emerging Markets?
By comparison, Microsoft (which released Xbox One last November) announced that it had sold five million units as of April 2014.
Wii U, Nintendo's latest console, was released a full year ahead of Xbox One and PlayStation 4. But as of March 2014, Nintendo had only sold a total of six million units. That figure should be higher now that Mario Kart 8 has been released, but Nintendo has yet to update its console sales.
E3 Strategies
Microsoft came to E3 with a different strategy this year, focusing entirely on new games instead of the non-interactive entertainment features (cable TV, movies, etc.) that it promoted in 2013. Sony, on the other hand, employed the same strategy that it did in 2013, which was already focused on games.
Now, at least one analyst is ready to make the call on who won this year's show.
"Sony kicked Microsoft's a**," Brean Capital analyst Todd Mitchell told Benzinga. "Far better developer support. Microsoft [is] retrenching to the core. Sony has that battened down, now moving to multimedia. Microsoft got the pacing wrong."
Analyst praise does not guarantee that a particular game console (or company, for that matter) will succeed. But as an apparent repeat of 2013 -- a year Sony dominated -- it certainly appears that the Japanese tech giant is on track for a successful 2014.
Disclosure: At the time of this writing, Louis Bedigian had no position in the equities mentioned in this report.
Posted-In: Brean Capital comments E3 Mario Kart Mario Kart 8 MicrosoftAnalyst Color Tech Best of Benzinga
View Comments and Join the Discussion!