S&P 500 Constituent Earnings Update
Nine of the S&P 500's constituents have yet to report earnings for this first quarter of 2014. The companies remaining are:
Q1 2014 S&P 500 Constituent Recap
Of those reporting for Q1 2014, 57 percent have reported better than the street expected. Overall, the S&P 500 has reported an 11.4 percent EPS. Nearly half of those firms in the index have reported double-digit year-on-year growth and 18 firms exceeded 100 percent.
Related: Earnings Expectations For The Week Of June 2: Ciena, FuelCell Energy And More
Telecommunications, Utilities and Consumer Discretionary sectors continue to grow (38.61 percent, 24.12 percent and 7.66 percent, respectively) and analysts are expecting those sectors to carry the weight of the blended expected growth rate for the index, which is 3.32 percent.
Last Week's Key Reports
Costco (NASDAQ: COST) reported earnings of $1.07, a growth rate of three percent compared to same period last year. Reported sales of $25.79 billion mark a seven percent year-over-year increase compared with Q1 2013. The company maintained its streak of missing consensus estimates and now stands at four quarters of consecutive misses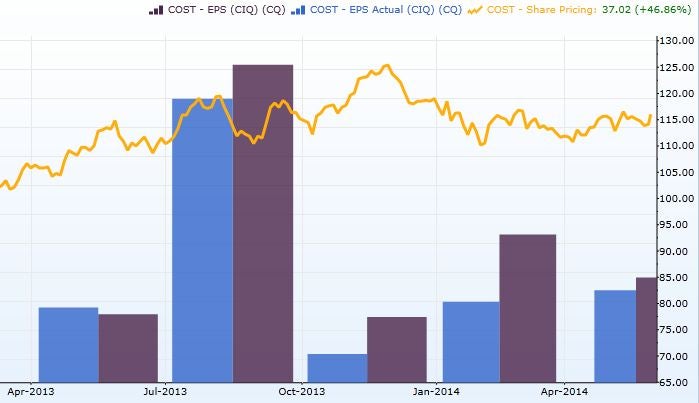 Luxury goods have been a sweet spot through this earnings cycle.
Tiffany & Co (NYSE: TIF) reported a 24.36 percent EPS beat, reporting $0.97 versus expectations of $0.78.
Michael Kors (NYSE: KORS) reported earnings of $0.78, or a beat of roughly 14 percent above consensus expectations of $0.68 for the first quarter. Michael Kors further drove home the luxury brand strength with same-store sales year-over-year increase of 26.2 percent for the US and a whopping 62.7 percent increase in Europe. The stock corrected on the release when investors became worried over management's concern around declining retail gross margins.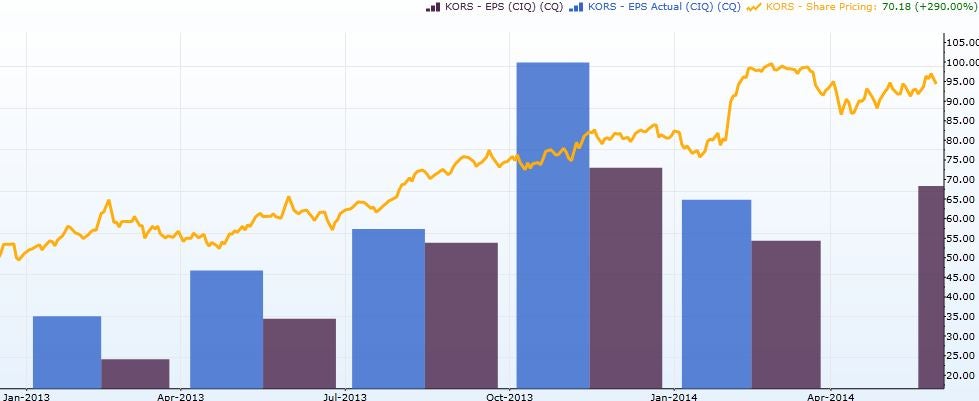 Sectors with the largest surprise are Consumer Discretionary (20.3 percent), Energy (18.3 percent) and Financials (15 percent). Telecom was the only sector with a negative EPS surprise, reporting a -14.3 percent average surprise along with 60 percent of the reporting constituents missing.
Top 10 Firms With Largest Year-Over-Year Growth For Q1 2014
Top 10 Firms With Largest Year-Over-Year Declines For Q1 2014

Posted-In: Earnings News Previews Trading Ideas
View Comments and Join the Discussion!