What Led To WWE's Smackdown?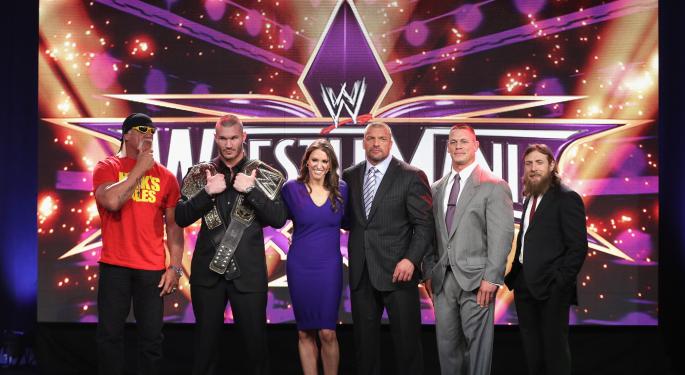 Wrestlemania 30 was the culmination of three decades of effort, growth and determination. Was this the peak for WWE (NYSE: WWE)?
The company had been in talks for months trying to find a new television contract. It finally landed one on Thursday, when the company released a statement that it has re-upped with NBCUniversal (NASDAQ: CMCSA) on a multi-year deal. That may been what power-bombed the company.
"The fact that it returned to NBCU is an indication that they couldn't get the dollars they were asking," Horizon Media's Brad Adgate told Benzinga. "If the deal wound up at another media company I don't think the stock would have gotten hammered, even if the dollars were not disclosed."
Related: Trailblazers: Vince McMahon Takes His Empire, And An Industry, Over The Top
The stock rose about three percent leading up to Thursday's close; over the next 12 hours, it dropped an astronomical 50 percent and was trading under $10 in Friday's pre-market. The stock saw an all-time peak close of $31.39 on March 20. Shortly after, Benzinga saw a potential drop on the horizon.
WWE has not announced any terms about the deal, other than that it keeps the company's flagship shows on their current networks -- USA Network's Monday Night Raw and SyFy's Friday Night Smackdown.
"We are excited about our future as we further the reach and popularity of our live, family-friendly entertainment programming 52 weeks a year," said Vince McMahon, WWE Chairman and CEO, in the statement. WWE does have strong viewership in the 18-49 demographic and the company's said they have reached 37.5 million people in 2014 year-to-date. But staying the course does not always work out.
Adgate said NBCUniversal was seen as the "last resort or safe harbor" for WWE. He also believes the 'sports-entertainment' company wanted to be paid rights fees in line with live sports. For comparison, the NFL recently signed a new deal with CBS worth $250 million... for one year.
See also: WWE Has Monster Run, But Could It Soon Be Slammed?
Belus Capital's Brian Sozzi thinks the Street was partly concerned about the new deal. He also believes the company's $9.99 per month streaming network needs "way more [subscribers] to compensate for lost Pay-per-views."
With WWE broadcasting its monthly pay-per-views on WWE Network, DISH Network and DirecTV announced in April they will be dropping future WWE events.
McMahon told Forbes that it would be "foolish" for distributors not to carry his events and called it "found money" for the providers. Sozzi disagrees.
"The pay-per-views I think will hurt WWE the most," Sozzi told Benzinga. "WWE has long thrived on its big, premium events. The entire WWE universe revolves around the lead ups to these major events."
Shares of WWE were trading at $11.34 in Friday morning's session, down over 43 percent.
View Comments and Join the Discussion!
Posted-In: Brad Adgate Brian Sozzi CBS commentsAnalyst Color Hot Movers Media Best of Benzinga