Pfizer's Heart Races Of AstraZeneca Amidst Rumored Deal & Drug Approval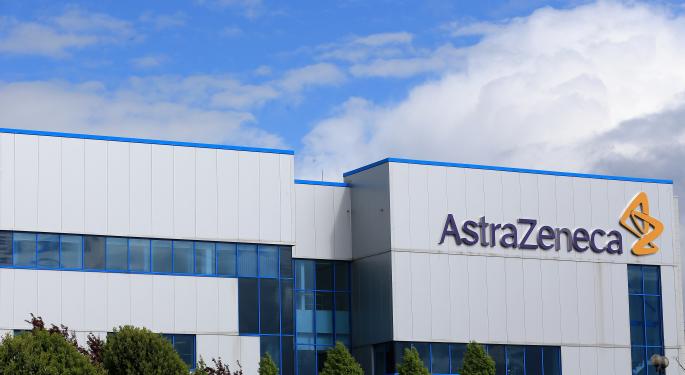 Pfizer (NYSE: PFE) continues to pursue AstraZeneca plc (NYSE: AZN) despite three rejections this year and grave concern by U.K. politicians.
History Of Bids
On May 1, 2014, Bloomberg reported that Pfizer could raise its bid for AstraZeneca to more than $106 billion (63 billion pounds) and increase the cash portion to approximately 32 percent. Pfizer confirmed the offer on May 2.
AstraZeneca has rejected Pfizer's two previous takeover discussions. Pfizer issued a press release cataloging the history of the first preliminary indication of interest to AstraZeneca's board of directors on January 5, 2014. The early proposal included a combination of cash and shares for £46.61 per AstraZeneca share, or roughly $76.62, representing a 30 percent premium to the share closing price of £35.86 on January 3.
Related: Pfizer vs. Eli Lilly - Which Is The Better Investment?
Pfizer discontinued discussions on January 14, following "limited high level discussions" with AstraZeneca following the British company's failure to pursue negotiations. Pfizer sought to renew discussions on April 26. AstraZeneca declined to engage once again.
In an April 28 press release, Pfizer wrote, "As in its previous proposal, Pfizer is considering a possible transaction in which AstraZeneca shareholders would receive a significant premium for their AstraZeneca shares, to be paid in a combination of cash and shares in the combined entity. Pfizer believes that a transaction, if proposed and consummated, would offer AstraZeneca shareholders a highly compelling opportunity to realise a significant premium to the undisturbed AstraZeneca share price as of 17 April 2014, which includes a substantial cash payment."
On May 2, Pfizer proposed a merger of the companies of which "AstraZeneca shareholders would receive, for each AstraZeneca share, 1.845 shares in the combined entity and 1,598 pence in cash. The proposal represents an indicative value of £50.00 ($84.47) per AstraZeneca share, based on Pfizer's closing share price of $31.15 (and an exchange rate of $1.00:£0.5919) on 1 May 2014."
AstraZeneca rejected the bid.
New AstraZeneca Drug Gains Approval
On Tuesday, May 6, AstraZeneca announced that the earlier-than-expected approval of EPANOVA from the U.S. Food and Drug Administration (FDA). Based on fish oil, EPANOVA will work as an accompaniment with diet to reduce triglyceride levels in adults with sever hypertriglyceridemia. It is the first FDA approved prescription omega-3 in free fatty acid form, with dosing of as few as two capsules per day.
AstraZeneca acquired Omthera Pharmaceuticals last year for $443 million, who originally developed EPANOVA. Deutsche Bank forecasts the drug to have annual sales of $200 million in 2018. Although not a substantial amount for sales of a heart disease drug, Deutsche Bank analyst Mark Clark reported that AstraZeneca "has a fast-expanding and potentially lucrative pipeline" of cancer drugs.
Following recent developments, rumors are circulating on Thursday regarding a possible £53.00, or approximately $89.00, per share offer, which would value the company at approximately $113 billion.
Drug Companies Head To U.K. Amidst Merger Concerns
The chief executive's of Pfizer and AstraZeneca, Ian Read and Paschal Soriot, have been called to appear in front of U.K. lawmakers to discuss the ramifications of the pending deal.
Reuters reporters William James and Guy Faulconbridge noted that the merger has "raised fears over UK jobs, research and intellectual property." The article emphasized Britain's concern over the protection of national interest in letting "foreigners to buy up one of the champions of its $2.5 trillion economy."
James and Faulconbridge reminds investors and the general public of prior hostile takeovers in Britain.
In 2010, Kraft Food (NASDAQ: KRFT) acquired Cadbury and broke its promise to keep a factory open. Pfizer decided to end most of its research at its large center in southern England three years ago, which cut approximately 2,000 jobs. Pfizer's poor record in the U.K. will add pressure in next week's discussions.
Bloomberg remarked that the rumored increase in the AstraZeneca bid will add pressure for the company to cut jobs. London-based Bloomberg analyst Asthika Goonewardene noted that with less than 20 percent of the 10,880 Pfizer and 9,000 AstraZeneca workforce in the U.K., job cuts may occur outside of Britain.
Fabian Wenner, an analyst at Kepler Cheuvreux, said Pfizer "may be more likely to cut its own R&D operations than eliminate jobs in the U.K. because of tax benefits."
Pfizer's tax rate is 27.4 percent, 6.1 percent higher than AstraZeneca. Wenner continued, "They want to lower the tax rate for the overall group by implementing transfer pricing, which you can only get when you have sufficient R&D in the lower tax regime. It would make more sense to save 15 to 20 percent of Pfizer R&D. It would make sense from a both a political point of view and a tax point of view."
View Comments and Join the Discussion!
Posted-In: Analyst Color M&A News Rumors Offerings FDA Management Global Best of Benzinga