With Its Stock Continuing To Sink, Could An Off-Season Benefit WWE?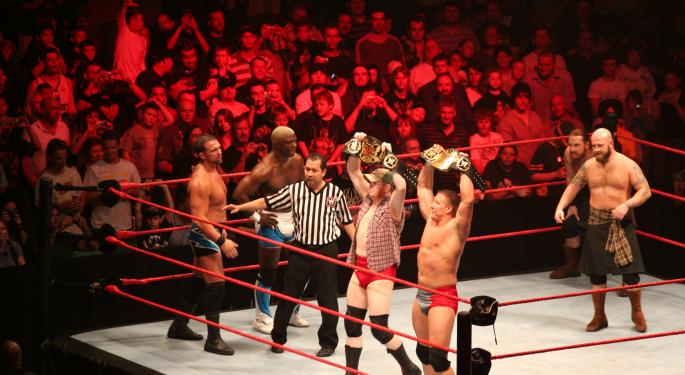 WWE (NYSE: WWE) is finishing up one of the most tumultuous weeks in recent memory for the company.
Wrestlemania 30 was by almost all accounts a huge success; there were no major streaming issues on the WWE Network, storylines were advanced and looked to set the show up well for the near future. Fans and major news outlets were buzzing about The Undertaker's winning streak coming to an end. And then, tragedy struck.
The Ultimate Warrior, one of the company's most successful and popular performers in history, died on Tuesday night after collapsing in a hotel parking lot - what authorities have called a "catastrophic medical event." Warrior was just inducted into the WWE Hall of Fame over the weekend, made his first appearance on Raw in nearly 20 years and announced he signed a three-year contract to act as a brand ambassador.
A day earlier, the company's fledgling over-the-top network reported strong sign-up numbers, but came in well below Street estimates.
Over the last five trading days, WWE stock has plummeted 27.5 percent, closing at $20.29 on Friday afternoon.
Related: WWE Network Hits 667K Subscribers In Six Weeks, But What Does The Future Hold?
"It just highlights the negative aspects of the business," Belus Capital CEO Brian Sozzi told Yahoo Finance of the Warrior's untimely passing. Nancy Grace, who famously bashed the industry in 2007 during the Chris Benoit murder-suicide, brought retired-wrestler-turned-Yoga-instructor Diamond Dallas Page onto her show Wednesday night. She took her turn bashing it again, bringing up steroid and drug abuse, much to DDP's surprise.
Sozzi did mention a few ways WWE can reverse its fortunes. He discussed an overall change to WWE's current drug wellness policy, which has been in question since it was enacted in 2006. What could directly affect WWE stock, however, is the potential for an off-season in the company.
"It's definitely a pickle. For every day John Cena would be off during an off-season, it would be eroding his brand," Sozzi told Benzinga. "Advertisers pay to be involved with the WWE because people consistently tune in, and tune in because they are confident their heroes will be on screen."
WWE talents are on the road about 300 days per year. The only extended down time they receive is from legit injures they may suffer, or scripted injuries that allow them to take a break from the road, interviews and television.
"It may hurt them financially not being on the air every week in what they charge they want to charge for the TV rights," Brad Adgate, research director at Horizon Media, told Benzinga. As the major professional sports company show, the biggest money is made in live television.
The NFL and its contemporaries have months-long off-seasons, yet rake in billions of dollars. With an off-season, could WWE see bigger demand with its streaming network?
"They certainly have an extensive library of content they could air if there is any down time," said Adgate. "But overall it could be that cliché 'less is more.' It depends on how much the audience would increase with a cutback in the number of weeks [being on television]."
Posted-In: Belus Capital Brad Adgate Brian Sozzi comments DDPAnalyst Color Media Trading Ideas Best of Benzinga
View Comments and Join the Discussion!