DaVita HealthCare's Positive Q4 Results Reignites Investor Interest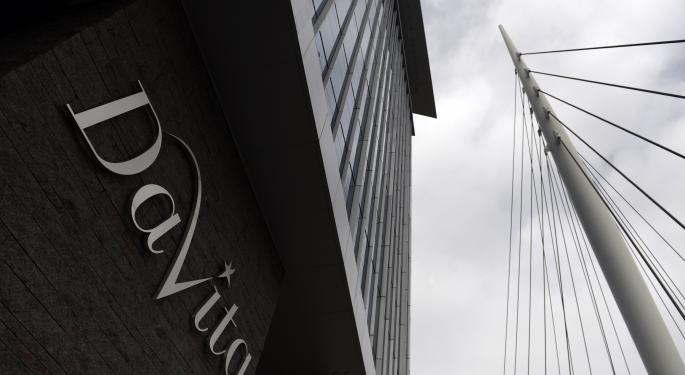 DaVita HealthCare Partners (NYSE: DVA) is soaring in after hours trading.
Having issued guidance late last year, investors may not have expected much to change this afternoon.
Raymond James analyst John Ransom echoed that sentiment. He told Benzinga that he thought the expectations were "pretty low" for DaVita's results.
"They just gave guidance in December, so I'd be shocked if anything is different from what they said," said Ransom. "They had two months in the bag, so I don't expect anything different."
DaVita's revenue of $3.06 billion proved to be nearly in-line with the Street estimate $3.03 billion.
But the Q4 EPS really shined at $1.10, beating the Street's estimate of $0.99 by $0.11.
Earnings per share were up 31 percent from the year-ago period, while sales were up 23 percent year-over-year.
Shares of DaVita are currently up more than 10 percent.
Slow Gains
In 2012, shares of DaVita rose more than 43 percent. The company (which provides kidney dialysis services for patients suffering from chronic kidney failure) proved to be one of the most promising stocks in healthcare.
DaVita did not perform as well in 2013, however. While the stock ended the year with a positive 16 percent gain, the company endured a massive pitfall in August that halted its growth spurt.
DaVita began to tumble after the company achieved its year high ($65.60) on May 10. The stock went on to lose more than 18 percent of its value, closing to a year low of $53.76 on August 30.
Despite the stock's volatility, DaVita barely moved during market hours and ended the day at $63.46 -- a 0.6 percent decline.
Medicare Troubles
On November 25, 2013, DaVita released a statement about the final rule for Medicare policies and payment rates for dialysis facilities paid under the ESRD (End Stage Renal Disease) and PPS (Prospective Payment System).
"This could unfairly result in cuts of nearly $30 per treatment over a three to four year period by looking only at pharmaceutical economics," LeAnne Zumwalt, DaVita's Group Vice President, said in a company release. "This means that Medicare dialysis rates will be flat in 2014 and 2015 in an environment of increasing expenses."
Zumwalt also delivered some positive news, adding that Medicare rates would not be decreased in 2014 as previously thought.
"In addition, we get to work with Congress and CMS on trying to mitigate future cuts, and CMS has a number of appropriate reimbursement levers to pull to offset cuts a few years out if it chooses to do so, since Medicare reimbursement already fails to cover the full cost of caring for Medicare patients," Zumwalt remarked.
At the time, DaVita projected that it would post a 2014 enterprise operating income within the range of $1.675 billion and $1.85 billion. Today it raised that amount slightly and said that it expects to report a full year operating income between $1.725 billion and $1.86 billion.
Disclosure: At the time of this writing, Louis Bedigian had no position in the equities mentioned in this report.
Posted-In: Davita DaVita HealthCare Partners LeAnne ZumwaltAnalyst Color Earnings News Best of Benzinga
View Comments and Join the Discussion!