Sozzi: Amid Lowered Poison Pill Threshold, JC Penney Highlights Apparent Disconnect Between Value And Assets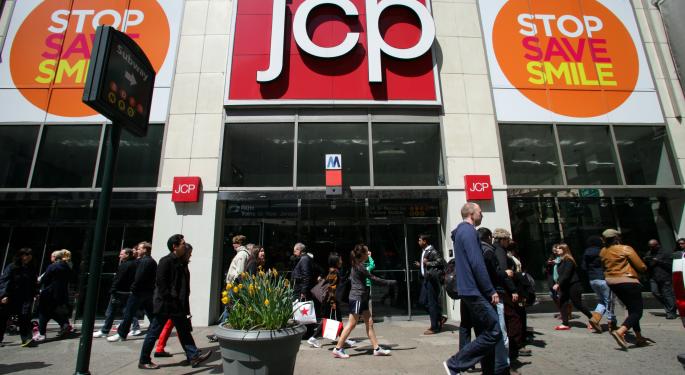 On Tuesday, JC Penney (NYSE: JCP) lowered the threshold on its existing shareholder rights plan, or poison pill, and extended its expiration date.
"The amendments to the Company's rights plan include extending the plan's expiration date from August 20, 2014 to January 26, 2017, and lowering the beneficial ownership threshold for a person or group to become an "acquiring person" under the plan from 10 percent to 4.9 percent," said the company in a press release.
The company argued that the purpose of the amendment is to protect its ability to use certain funds that can be used for tax benefits. The company said it has $2 billion in net operating loss carryforwards that could offset future profits and lower its tax obligations.
Additionally, the company said that its move would "reduce the likelihood" of an ownership change.
Related: Rent-A-Center Plunges Far Below Estimates Due To Several Unexpected Expenses
In a research note to clients, Brian Sozzi, CEO and Chief Equities Strategist at Belus Captial Advisors, said that "the company revising its poison pill was designed to highlight the disconnect, in the eyes of J.C. Penney's management team, between the real-time value of its stock in the public market and the assets it believes it owns."
Investors that already hold more than a 4.9 percent ownership stake would only trigger the poison pill if they add to their existing position. State Street Global Advisers, Soros Fund Management and The Vanguard Group are the only investors currently with a stake above the new threshold.
Sozzi wrote that top shareholders "have been prevented from stepping in and buying more stock at a lower price should J.C. Penney's fundamentals begin to shift favorably." He also said that management has removed a "major perceived support for the stock, and raises the question if a top shareholder such as Soros Fund Management may now exit the position (if they buy more shares, dilution is triggered per today's announcement), pressuring J.C. Penney shares further."
Benzinga reached out to Sozzi and asked if he can imagine new shareholders assuming large ownership stakes in the company following the amendment.
"As the bottom line outlook stands right now (losses for next two years), no," Sozzi responded in an e-mail to Benzinga. "However, any small sign JC Penney's sales are poised to return to consistently positive and that gross margins are creeping higher, there would be a fresh round of believers likely to be attracted to the name."
Investors will vote on the proposed amendment at the next annual shareholders meeting in May. If shareholders do not approve the amendments, it will not become effective.
Posted-In: Belus Capital Advisors Brian Sozzi J.C. PenneyAnalyst Color News Analyst Ratings Media Press Releases Best of Benzinga
View Comments and Join the Discussion!