Chowdhry: Twitter Needs a Subscription Model to Survive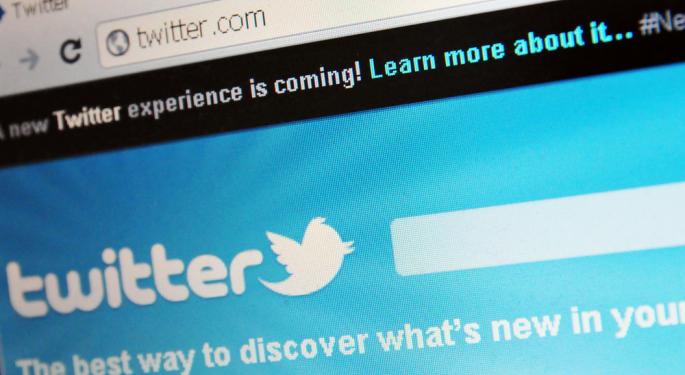 Twitter (NYSE: TWTR) may not be able to survive on ad revenue alone.
Trip Chowdhry, the Managing Director of Equity Research at Global Equities Research, initiated coverage on Monday with an Equal-Weight rating and a 12 to 18 month Price Target of $60.
Chowdhry likes Twitter, but he feels the negatives currently outweigh the positives.
Multiple Accounts an Issue
Case in point: Twitter reportedly has more than 230 million users, but how many of them are truly unique?
"What we have found is that people create new Twitter accounts, which are either based on an event -- like if somebody is attending a conference, they create a new account," Chowdhry told Benzinga. "Sometimes it is based on location, and sometimes it is based on [an] occasion."
Related: Best Buy's Top 10 Trending Gifts On Twitter
Chowdhry said that the average Twitter user has four to six different accounts.
"These are all active accounts," he added. "A person is not tweeting on only one subject. People are tweeting on multiple subjects in multiple locations. That's the reason we have four to six accounts."
A Failure to Connect?
Duplicate accounts are also a problem for Facebook, but Chowdhry said the problem is much more severe on Twitter. While users may come to Twitter to randomly talk about a politician or a new television show, they come to Facebook because they intend to connect with someone. For better or worse, users cannot make that connection while retaining complete anonymity.
"On Twitter, it is an open platform, which is good, but it lends itself to anonymity," said Chowdhry. "That's one of the reasons why teens are leaving Facebook and going to Twitter and WhatsApp and others, because of anonymity."
Chowdhry is convinced the only sustainable business model for an anonymous social network is one that involves a monthly subscription fee.
"Once you are anonymous, it's the Wild Wild West," he notes. "An advertiser has no clue who you are, what are your clear intentions. Are you a brand promotion or a brand distortion?"
"The value of [being] anonymous is that you can say whatever you feel like, and that's the reason teens like it. Their parents can't track them. People who have extreme views like it. And people who just want to spam like it. But advertisers don't like it. That's a problem."
Shots in the Dark
It's a problem because advertisers want to know who they target.
Chowdhry theorized a subscription model would provide continuous revenue for the company. It may also allow Twitter to learn the identity of each user, including those who have multiple accounts (since they would be linked to the same person, the same credit card, etc.). This could make Twitter more appealing to advertisers.
Related: Jack Dorsey Doesn't 'Like' Facebook Hashtags
Long-term, Chowdhry expects Twitter to put forth the effort and overcome its obstacles. In the meantime, he predicts that the stock will follow a pattern that is similar to Google.
In 2008, shares of Google dropped from around $650 to $350. The stock bounced back to $600 in 2010.
Over the next 12 to 18 months, Chowdhry expects Twitter to fall from $60 (where it is currently trading) to $30, and then bounce back to $60.
Disclosure: At the time of this writing, Louis Bedigian had no position in the equities mentioned in this report.
Posted-In: comments Facebook Global Equities Research social media Trip Chowdhry twitterAnalyst Color Tech Best of Benzinga
View Comments and Join the Discussion!