Onyx Rejects Amgen Bid - But Open to Other Offers (ONXX, AMGN)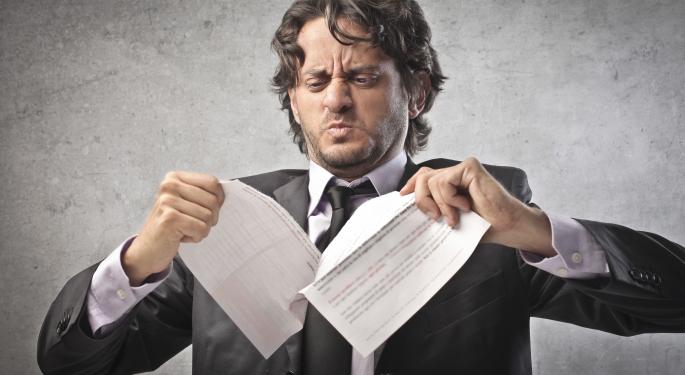 Onyx Pharmaceuticals (NASDAQ: ONXX), Friday, turned down an offer from Amgen (NASDAQ: AMGN) to acquire all of Onyx's outstanding shares for $120 per share in cash, according to The Wall Street Journal.
While Onyx said the proposed offer from Amgen significantly undervalued Onyx, the company did authorize its financial advisor to pursue other possible acquisitions, provided they were deemed to be "in the best interest of Onyx shareholders."
One biotech analyst, Robyn Karnauskas at Deutsche Bank, indicated in a note that Onyx might go for anywhere from $140 to $148 a share. Karnauskas said that, even at $140, Amgen might still prove a valuable acquisition for Amgen.
Mergers and acquisitions in the health care industry are growing, according to The New York Times. Roughly $93.5 billion in transactions were announced in the first half of 2013, representing a 13 percent increase from the same time last year.
Related: AstraZeneca to Acquire Pearl Therapeutics to Gain Foothold into Lucrative Market
The attractiveness of Onyx is based on the fact that it sells or is involved in the sale of three cancer drugs, two of which are relatively new.
The oldest of the three is Nexavar, a liver and kidney cancer drug Onyx sells in partnership with Bayer. Stivarga, used to treat colorectal cancer, won approval last year under the Bayer banner, although Onyx helps sell the drug in the U.S. and receives a royalty on global sales.
The top drug in the Onyx line, however, is Kyprolis. This drug is used to treat multiple myeloma and was approved last July. Onyx fully owns the drug.
Mark Schoenebaum, a biotechnology and pharmaceutical analyst at ISI Group, told The New York Times Sunday, "The hottest area right now of acquisitions are fully owned oncology drugs, and those are scarce."
Analysts believe sales of Kyprolis could go as high as $2 billion annually in a few years. Schoenebaum indicated there might be as many as a dozen companies interested in Onyx.
Kyprolis isn't the only growth drug in the Onyx arsenal. The company will also receive an 8 percent royalty on a new drug being developed by Pfizer Inc. (NYSE: PFE) called Palbociclib. That drug has shown promise in the treatment of breast cancer.
This raises the possibility that Pfizer could be interested in acquiring Onyx, in part to eliminate the royalty on Palbociclib, according to Schoenebaum. Palbociclib could be on the market as early as 2015 and generate annual sales of $2 billion or more.
Shares of Onyx, which closed Friday at $86.82, jumped more than 50 percent in pre-market trading Monday, rising $43.93 to $130.75.
At the time of this writing, Jim Probasco had no position in any mentioned securities.
Posted-In: Amgen Inc.Analyst Color News Wall Street Journal M&A Events Analyst Ratings Media Best of Benzinga
View Comments and Join the Discussion!