How Obama and Romney Could Impact These Global ETFs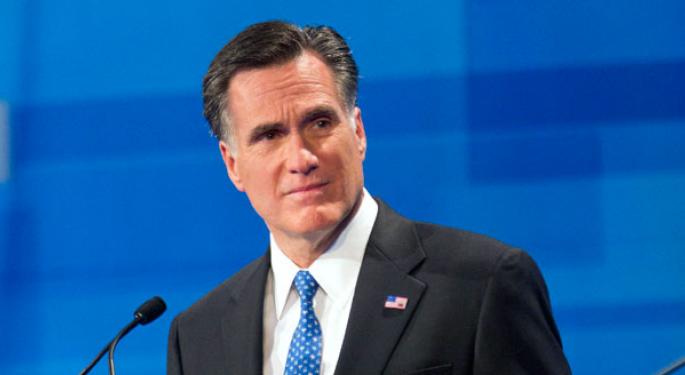 With the U.S. presidential election just two months away, investors are turning their attention to stocks and ETFs that will likely be affected by the outcome of the Obama/Romney tussle. Pondering which sectors could be impacted by presidential politics brings up a cadre of familiar suspects. Energy names, health care and pharmaceuticals stocks, and financials are all likely to be in play in following the 2012 presidential election.
The list grows longer when factoring in funds such as the PowerShares DB Dollar Bullish (NYSE: UUP) and the SPDR Gold Shares (NYSE: GLD), among others. However, the result of this year's election could have a profound impact on several marquee international ETFs as well.
The following is a sampling of some of the "must know" global ETFs for the 2012 U.S. election season:
Market Vectors Egypt ETF (NYSE: EGPT) To say boosting Egypt's economy and ensuring a steady democracy takes hold in the North African nation has been a cornerstone of President Obama's foreign policy might be an overstatement. That said, it's clear Egypt has been a priority for Obama Administration. That much is clear with news of the U.S. moving to forgive $1 billion in Egyptian debt.
Being an overt friend to Egypt could be costly for Obama come Election Day given the negative view of the Middle East many Americans have. To that end, it is not likely Obama will be boasting about any Egypt-related accomplishments.
The reality that EGPT investors must acknowledge is that a Romney Administration could take much different approach to Egypt in an effort to bolster the U.S. alliance with a different country in the region.
iShares MSCI Israel Capped Investable Market Index Fund (NYSE: EIS) EGPT has gained more than 55 percent just this year while the iShares MSCI Israel Capped Investable Market Index Fund has added just 16 percent since President Obama was inaugurated in early 2009. Realistically, the performance of either fund arguably has little to do with Obama.
Israel is a developed market, but investing there carries a level of geopolitical risk usually reserved for some emerging and frontier markets. That is the result of the Middle East's reputation for political volatility, which can impact Israeli equities. Illustrating the point is the fact that EIS is down almost 17 percent in the past year.
The Romney campaign will continue to try to convince voters Romney is more of a friend to Israel than Obama. It is worth the gamble to pull even a small percentage of Jewish voters over to the Republican camp this year, but it will be a tough task for Romney. Earlier this year, the Associated Press reported surveys of American Jews indicate that only 6 percent of them place Israel as their top priority.
Bottom line: The election could have a deep near-term impact on EIS. Technically vulnerable, EIS needs to break above $37 or risk a decline to $35 and lower. Presidential politics could hasten either move.
Market Vectors Russia ETF (NYSE: RSX) Citing Citigroup's Russian equity strategy team, Barron's reported last week Russian equities could fall five percent to 10 percent should Romney emerge victorious.
Citi said Romney has taken a more aggressive approach to Russia and should he win, that could mean an end to several years of softer U.S./Russia relations. The bank also cites Romney's plans to increase U.S. domestic oil production as a potential negative catalyst for Russia's energy-heavy economy.
That thesis is valid, except for the part where it does not acknowledge that U.S. oil production has actually increased during part of Obama's first term. In fact, the U.S. was net oil exporter last year.
In addition to RSX, the other Russia-specific ETFs are the Market Vectors Russia Small-Cap ETF (NYSE: RSXJ), the iShares MSCI Russia Capped Index Fund (NYSE: ERUS) and the SPDR S&P Russia ETF (NYSE: RBL).
For more on global ETFs, click here.
Posted-In: Analyst Color Long Ideas News Short Ideas Specialty ETFs Barron's Emerging Market ETFs Technicals Best of Benzinga
View Comments and Join the Discussion!