Nassim Taleb Talks Options, Markets, Debt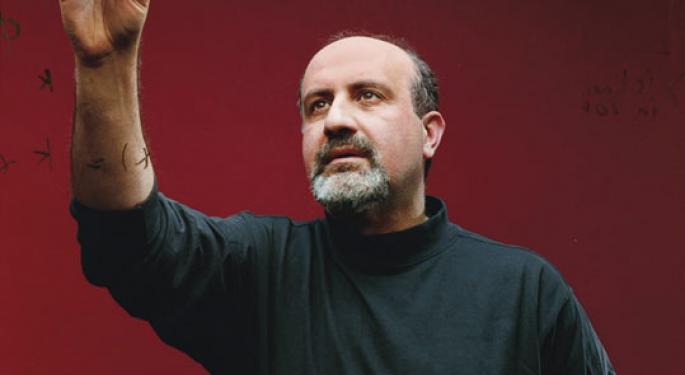 Nassim Taleb, the author of "The Black Swan," was just interviewed on CNBC talking markets, debt, and his self-imposed exile. The author, trader, and advisor was fast to dismiss any mention of the "Flash Crash" last week, saying that he "Does not have enough facts to talk about Thursday's events yet."
What he did wish to speak about was the rising debt levels in governments across the globe. He said that "The world is vastly more fragile since 2008, when I left it." Mr. Taleb left the public world in a self-imposed exile after the U.S. Government began to take on private sector debt.
Mr. Taleb said that the crisis of 2008 was caused by "debt and irresponsible risk management," and that in the year and a half since he was gone, "More hidden risks have arose, more debt has been piled on, and more irresponsible risk management have been practiced." He is extremely worried that one day, come a U.S. debt refunding, "the bridge will be broken by one large truck."
Hyperinflation will be inevitable according to Nassim Taleb. "Make no mistake, the tumor is bigger," he said when referring to the U.S.'s increasing debt problem.
"The only hope I see is what they did to Greece," in regards to the austerity plan that was put on place in the country recently.
I would heed the words of Mr. Taleb and read his books "Fooled By Randomness" and "The Black Swan." You will see that he is not just an academic like Noriel Roubini. He practices what he preaches and reaps huge rewards.
I believe the play off this, and I have been screaming it from the rooftops for some time, is to buy the TBT, the PROSHARES ULTRASHORT 20+ YEAR TREASURY ETF (NYSE: TBT).
View Comments and Join the Discussion!
Posted-In: Analyst Color Long Ideas Specialty ETFs Hedge Funds Global Media Trading Ideas ETFs