Sherwin-Williams Paints a Solid Outlook for Shareholders With Q4 Financial Reports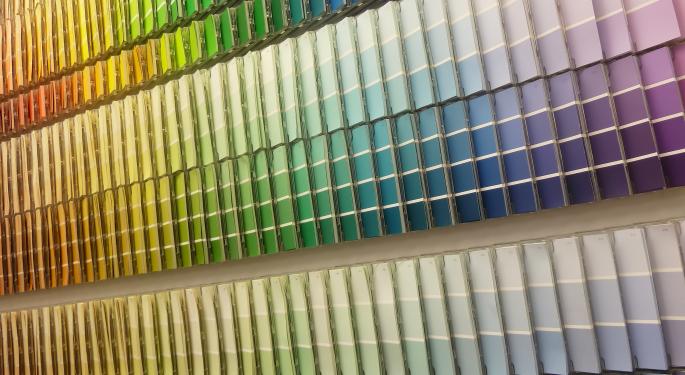 While the internet has revolutionized how homeowners shop, many industry businesses have remained dependent on pedestrian foot traffic to drive a majority of their sales. Sherwin-Williams (NYSE: SHW) is no exception. While the painting and coating giant has consistently enjoyed a relatively steady growth rate, the new tax bill changes, coupled with increased homeowner and contractor demand, have helped generate solid fourth-quarter earnings.
If you'll recall, Sherwin-Williams' third-quarter report was equally exciting for those following its stock. Back on October 23, the company reported quarterly sales of $4.51 billion, setting a new record and skyrocketing 37% year over year. One of the driving factors in that jump? The company's recent acquisition of industry peer Valspar. That same month, its stock rose an impressive 10.4%, making the year-to-date at that time an impressive 47%. The news came as a welcome change, as earlier in the year, the company took a hit after damage from hurricanes and natural disasters.
On January 25, Sherwin-Williams released the news on its fourth-quarter earnings and the outlook was equally sunny. Though overall revenue dipped a bit going into this fourth quarter, it still came in at $3.98 billion and consolidated net sales increased 43% this quarter. For the year, that brings consolidated net sales to 26.4%, setting a new $14.98 billion record. Adjusted earnings are now at $2.95 per share, and though this is a little lower than the $3.12 per share that industry forecasters predicted, it's a positive upswing and bodes well for the company moving forward into 2018.
While the recent tax code changes play a major role in boosting Sherwin-Williams' numbers by reducing the deferred tax liabilities the company will have to pay (resulting in an estimated $669 million in savings, according to the report), that's not the only factor at play here.
This quarter, sales of architectural paint were also up, attributed primarily to the fact that the housing industry in general continues to boom. In addition, in-store sales rose across both the United States and Canada (climbing 8.2% from last year) as clients seek to keep up with the latest trends and capitalize on a healthy real estate market.
The contribution from Valspar in this impressive growth cannot be overlooked. Leaders expect earnings of $15.35 to $15.85 per share at the end of the year, driven primarily by the acquisition and the improved profitability and performance that comes along with it. This number will need to be adjusted, however, to add $3.45 per share due to acquisition-related costs.
View Comments and Join the Discussion!