An Invisible Chinese Hand Could Be Behind Earnings Revisions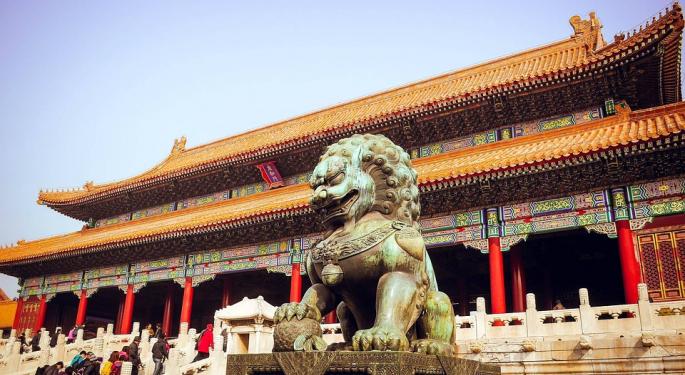 Stock markets have been in a state of jubilation since the U.S. election and have so far shaken off the risks posed by upcoming elections in Europe. But Chinese authorities deserve some of the credit being heaped on Donald Trump.
In Europe, improved Eurozone economic data and Donald Trump's pro-growth agenda have been attributed to a reversal of the downtrend in earnings estimates for the Euro Stoxx 600. Euro area GDP growth hit 1.7 percent in the fourth quarter of 2016 and, although still high at 9.6 percent, Eurozone unemployment is at its lowest since May 2009. Donald Trump has promised infrastructure spending and tax cuts as a welcome shot in the arm for global growth.
Earnings estimates for Euro Stoxx 600 companies have been revised up by 0.8 percent year-to-date. On closer inspection, it is basic resource companies which have been the main recipient of positive earnings revisions. The Basic Resources sector of the Euro Stoxx 600 has seen 2017 earnings estimates rise over 18 percent YTD. Indeed, stripping out commodities, earnings for the Euro Stoxx 600 have only been revised higher by 0.3 percent YTD. (source FactSet)
It's not just the basic resource sector contributing to the increased expectation for European company earnings. The fact that earnings estimates for banks are no longer falling is a positive given their strong weighting in blue chip European equity benchmarks. Still, a good chunk of the reason for optimism in the banking sector rests with hopes of higher inflation that will lead to higher interest rates and better lending margins. After years of exporting deflation, China is exporting inflation again. Chinese purchase price inflation (PPI) reached 6.9 percent in January.
In 2016, China loosened fiscal policy by increasing government spending and running a much bigger budget deficit. China's bank lending rate is at a record low. The main conduit for government spending is through Chinese state-owned enterprises (SOEs). SOEs increased fixed-asset investment by 19.1 percent last year but outside of SOEs, fixed-asset growth slowed markedly (source: Fitch). The SOE's are part of the 'old economy' of China and as such will mostly invest in commodity-intensive projects, especially housing and infrastructure.
In essence, higher commodity prices and thus basic resource company earnings and thus overall European company earnings depend on government stimulus in China.
A breakout in US stocks after a two-year consolidation coincided with the S&P 500 returning to earnings growth. The Euro Stoxx 600 sitting at 52-week highs relates to higher earnings expectations for European companies, which again is heavily slanted by basic resources.
Our base case is that China continues stimulus in 2017 in order to meet its own growth targets, allowing asset reflation from commodities to stock markets. The biggest risk to this scenario is that Chinese stimulus has meant an increase in China's debt levels and risks structural imbalances that could manifest in another market panic ala August 2015.
With much of the focus on US fiscal policy change under Donald Trump, the pace of rising US interest rates and European elections, we are alive to the idea that China could make or break the 2017 performance for equities.
The information and comments provided herein under no circumstances are to be considered an offer or solicitation to invest and nothing herein should be construed as investment advice. The information provided is believed to be accurate at the date the information is produced. Losses can exceed deposits.
View Comments and Join the Discussion!