K12 Inc. is Expanding in Midst of Headwinds and Changing Dynamics
Within education, the market for technology and online based learning is growing. While the post-secondary market faces challenges with new enrollments, the K-12 market is ripe to continue its expansion. Public school systems, charter schools, and parents that want greater school choice are all embracing the use of online courses and technology based learning tools.
That said, the companies in the sector may have pushed too far towards trying to be educators versus being technology providers. School systems and charter schools now prefer to use external companies for the technology and curriculum but not to manage the school. K12 Inc. (NYSE: LRN)is the most direct play on these trends but it faces some challenges, and the shares of the company have sold off as a result. Despite the challenges, K12, among other candidates, offers promising growth potential for investors.
K12 Writes The Narrative For The Education Sector
K12 Inc. is a technology based learning company that provides curriculum, software systems, and education services largely for students in kindergarten through 12th grade. K12 provides products to school districts, private and charter schools as well as families for home based learning. In addition to curriculum and courses, it offers an online school platform-learning management system and school management systems. It works with both full-time, online and blended schools.
We will look at it closely since its story represents trends in the sector. K12's revenue breakdown is more heavily weighted to operating schools with 86% of FY13 revenue from its Managed Public Schools segment. This is primarily related to the management of 54 online charter schools. This part of the business is facing the greatest current challenge for companies like K12.
Do Technology-Based Learning Companies Offer More Growth?
Online spending will still account for just a small portion of total spending in the K-12 education sector, but it is forecast to grow significantly from current levels. To give some historical perspective to sector growth, revenue at K12 increased an average of 32% from 2003 through 2013. Management at K12 estimates the market for online schools could reach $15 billion per year from $2 billion currently. Total spending on the K-12 education is $563 billion and is expected to grow 24% by 2022 according to the National Center for Education Statistics.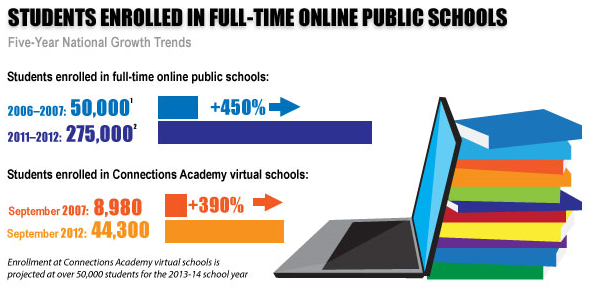 Online learning remains a hot topic and enjoys political support from Republicans in particular who want to provide parents with school choice. Increasing numbers of K-12 students are taking online courses with 5% of publicly educated students taking at least one course online in 2013 according to a report from Keeping Pace. Six states actually require at least one online course. In addition, college courses, MOOCS, and other online programs continue to grow.

Management of Online Schools for Companies is Presenting Challenges
For certain K-12 students, online schools are an excellent option. The challenge is that online courses require a higher degree of discipline and self-motivation by the student to study and complete work on-time. Parental involvement may also need to increase for K-12 students that are educated online. The problem with some of these online schools is they have students who could not succeed at traditional schools. Many of these students failed at traditional schools due to a lack of responsibility, self-motivation, and low parental involvement. These are precisely the skills necessary to succeed at an online school.
Data from K12 supports some of the challenges these schools face. K12 has recruited students aggressively and at times the dropout rate has pushed as high as 50% annually. Former employees have stated that K12 will take any student and may even target at-risk students, who are probably the least likely to do well in an online format. In its recent quarterly report, Managed School revenue was down by 3% compared to the growth it experience through 2013 noted earlier.
School Systems Increasing Direct Management of Online Schools
For the sector, these managed schools that K12 operates online present significant challenges, and the industry trend is towards adoption of non-managed systems. The management team at K12 is responding and shifting its focus away from managed schools and towards non-managed programs. In these relationships, K12 provides the curriculum and other technology, but a charter school or the public school system manages it.
Educators are still sorting out how online curriculum and technology will factor in, but it is clear that it will grow and play an increasing role in the future. Blended curriculum and online only schools both have upside within the K-12 grades. However, a stock like K12 has some legacy issues to deal with. Its managed school business could continue to decline.
Conclusion – Search for Technology Based Learning Companies in K-12 Market
The other publicly traded companies in the sector are largely for profit universities like Apollo Education Group Inc(NASDAQ: APOL), DeVry Education Group Inc(NYSE: DV), and Career Education Corp.(NASDAQ: CECO). These businesses face many well publicized challenges due to low graduation and placement rates as well as post-degree salaries not supporting the student loan payments its students face. There is government involvement as a result and uncertainty about the levels of future enrollment. In my view, a company like K12 faces a similar challenge with its managed school programs.
However, there are multiple direct plays capitalizing on the technological growth in the sector, for instance, Sibling Group Holdings Inc. (OTCMKTS: SIBE). It is worth following for investors since it lacks the legacy issues of K12, but still participates in online K-12 education. Sibling Group is an early phase platform company that operates Blended Schools Networks. It plans to continue to build this business organically and also acquire other advanced technology and education operations. While Sibling provides curriculum, hosts course authoring tools, and provides a learning management system, it does not manage schools like K12. Other companies that are in the technology based learning sector like Renaissance Learning Inc. remain private although it is expected that more of these companies will conduct IPOs over the next few years.
The following article is from one of our external contributors. It does not represent the opinion of Benzinga and has not been edited.
View Comments and Join the Discussion!