Overstock.com Benefits From E-Commerce Upside, Yet Not Receiving Valuation Premiums of Peers
E-commerce sales hit $75B in Q2 2014, equating to a 6.4% share of total retail sales. This represents a record high share of total retail sales, up from 6.2% in Q1 2014 and 5.8% in Q2 2013 (below). Consumers are transitioning into online shopping as retail sales growth has weakened while e-commerce is picking up, growing 5% QoQ. This growing trend is the driving force behind the premium valuations that e-commerce businesses, such as Amazon (NASDAQ: AMZN) and Zulily (NASDAQ: ZU), are receiving. From an investing stand point however, low multiple names offer downside protection with the same potential to benefit from the rise in e-commerce.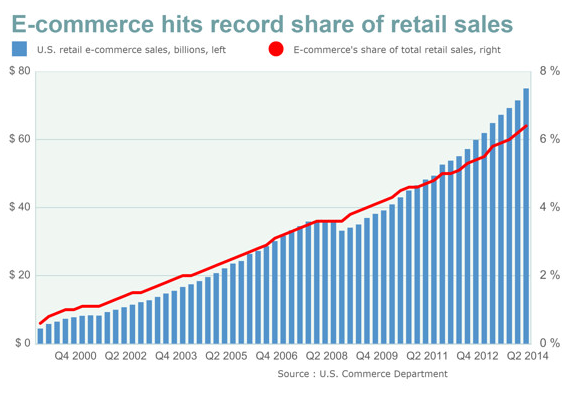 E-Commerce Space Stretched Valuations
Abe Garver's "Moving the e-Markets Valuation Index" shows the valuation multiples of popular e-commerce sites.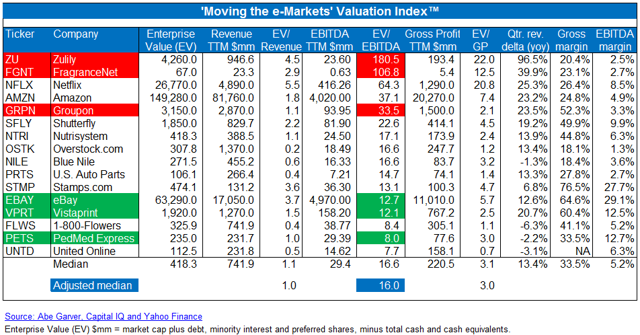 As seen above, the EBITDA margins for many of the names on the list are nominal indicating that e-commerce businesses have not yet achieved consistent profitability. For example, Groupon (NASDAQ: GRPN) has reported a loss from operations of $27M thus far in 2014 on revenues of $1.5B. Going forward, the company is expected to struggle with profitability, yet boasts a 33.5x EV/EBITDA multiple. Zulily, the most expensive name by valuation metrics, has reported a mere $4.7M in income from operations with revenues of over $500M during first half of 2014. That's an operating margin less than 1%.
However, with the adoption of the whole e-commerce space and the company specific growth rates, investors are prioritizing top line growth ahead of profits. Such an investing approach could prove to be lucrative if, in fact, online business is widely adopted and profitable in the future. With companies like Zulily and Netflix being valued at ~5x sales though, the downside is on par with the upside.
IPO's to Push E-Commerce Market Further
Alibaba
Alibaba's (NYSE: BABA) IPO will surely bring the e-commerce space more exposure due to its size and surrounding hype. The performance of Alibaba will be under the public eye, which could act as a catalyst for alternative e-commerce companies that are available in the public realm. If Alibaba performs well, highly probable given its growth, profitability and excitement, I believe the optimism will spill over to the general e-commerce space in the short term.
There have been concerns that added competition from Alibaba will affect operations of other e-commerce companies like Amazon and Ebay. From the S-1 filing, Alibaba generates about 1.6% ($63M) of their total revenue from "international commerce retail". This segment grew 76% in fiscal year 2013 due to increased transactions on AliExpress from sales in Russia, the US and Brazil. However, in absolute terms, Alibaba will not pose much threat to existing businesses in the near future. The IPO hype can potentially increase the popularity of its competitors.
Wayfair
Boston e-commerce firm Wayfair is in process to raise up to $350M though a public listing. Rumor has it that the company is waiting for Alibaba to hit markets before they proceed. Wayfair's revenue for the first half of 2014 was $574M, but the company recorded a net loss of $51.4M due to increased marketing costs.
Similar to other public e-commerce businesses, Wayfair has placed growth ahead of profitability as top line has doubled since 2011. During 2014, the company expects to exceed $1B revenue mark. Prior founding rounds put a $2B valuation on Wayfair, which would translate to P/S ratio of just under 2x.
Overstock.com: Rare Value Play in Pricey E-Commerce Space
Overstock.com (NASDAQ: OSTK) stock is down 40% YTD as the company's top line growth slowed after its Q2 2013 peak of 22%. The downward slide in revenue growth fell to sub 10% growth in Q1 2014, but was reversed by Q2. In their latest conference call, management was confident that the trend reversal will continue upwards and has taken steps to drive top line.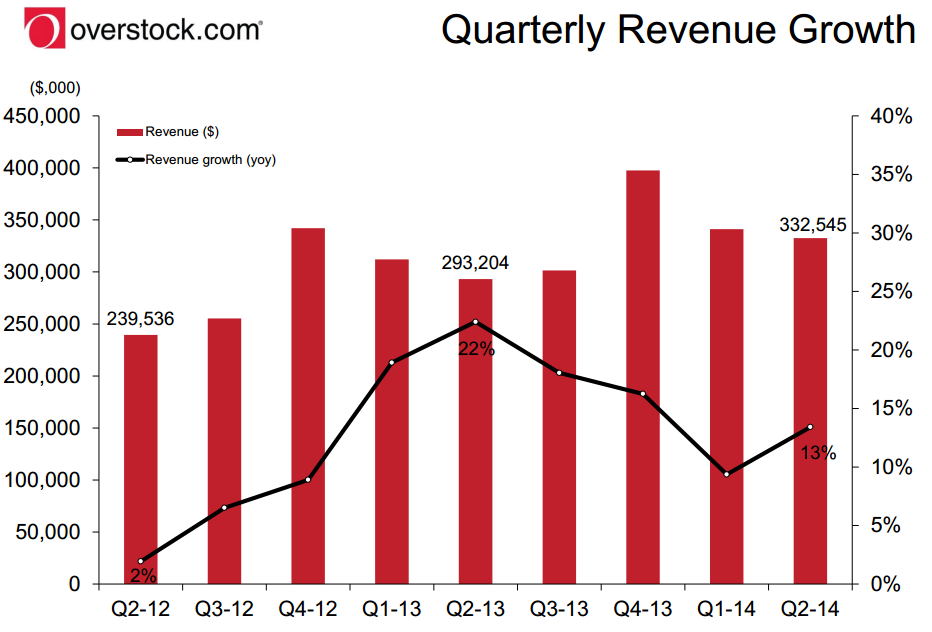 Club O Loyalty Program
Overstock, similar to Amazon, has rolled out a membership program ($19.99/year) which includes incentives for members like free shipping and other rewards. The goal with this program is to create customer loyalty and drive repeat sales. Thus far, Club O sales are growing twice as fast as the rest of the site and could make up 20% of total revenues by the end of 2014. The loyalty program is expected to be a revenue driver for the future as orders coming in are, on average, larger.
Supplier Oasis Fulfillment Service (SOFS)
The SOFS platform allows sellers, suppliers and partners to save costs from their supply chains by offering a single integration point to manage inventory and sales channels, while tapping into wide distribution networks. The idea with SOFT is to expand the selection of goods on the site by increasing sellers, which in turn will generate high margined revenues.
For 1H 2014, Overstock recorded an operating margin of 1.17%. Management hopes that newly launched platforms like SOFS and insurance offerings will add high margined revenue segment which will contribute to higher operating margins in the long term. A 100bps increase in gross margins would be an attainable goal within the next year as the new offerings are integrated into Overstock's operations.
Overstock's Valuation Offers Downside Protection
The majority of OSTK's revenue (nearly 90%) comes from "fulfillment partner revenue". In other words, Overstock acts as an intermediary between the fulfillment partner, who ships the merchandise, and the end customer. This model poses minimal risk for Overstock as the company does not own the majority of merchandise it sells.
Due to the weak performance of OSTK stock in 2014, the company is trading at valuation multiples that assume little future growth. Overstock lags its peers in premiums as the company trades:
0.24x EV/Sales (sector average 1.1x EV/Sales)
16.6x EV/EBITDA (sector average 16.6x EV/EBITDA)
1.2x EV/GP (sector average 3.1x EV/GP)
With the company revenues trending up once again and a focus on developing higher margined business segments, there is a good chance that Overstock trades back at the $30 level (a 67% upside) within 12 months. I am confident that Overstock will return to top line growth in the mid-high teens with increased margins due to the newly announced programs. This would further support the $30 price.
Conclusion
E-commerce is a growing field that could eventually reach similar sale levels of traditional retail. Already hot, the e-commerce field is being magnified even more with the IPOs of giant Alibaba and Wayfair. Due to the added hype, I expect the valuations of online retailers to continue swelling in the short term into levels that are unsustainable. Such a trend bodes well for companies in the sector that are flying under the radar. Overstock.com is a name that benefits from the mentioned moves, yet offers investors much greater downside protection due to the tough love it is receiving from markets.
The preceding article is from one of our external contributors. It does not represent the opinion of Benzinga and has not been edited.
View Comments and Join the Discussion!