Medical Marijuana, Inc. And Next Galaxy Form The New Reality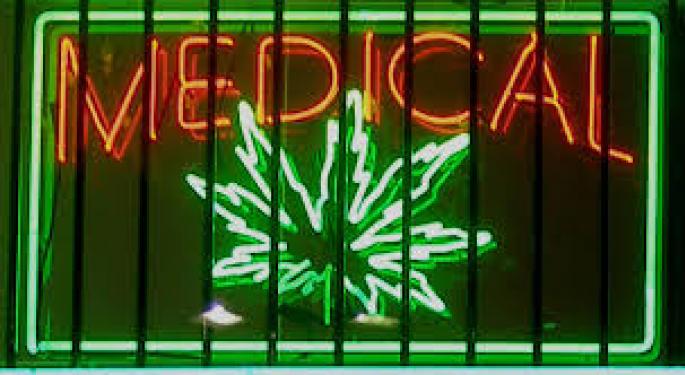 The medical and therapeutic properties of marijuana in the United States has been recognized since 1850, when it even merited an entry into the1850's edition of the medical reference book, United States Pharmacopeia. Its role in society nevertheless has been mired in social and political controversy and has over the decades conflicted with the federal government's drug laws. However, through much effort and determination of its many proponents, and the success of states referendums, as many as 23 states have legalized, or are preparing to legalize, medical marijuana. This development has created new opportunities for companies in the bio-medical field to provide products and services for this emerging market. One of the companies is Medical Marijuana, Inc. (MJNA).
Legal Highs
Medical Marijuana, Inc., as the name suggests, provides products and services for the medical marijuana and industrial hemp markets. The company is located in San Diego, CA and recently announced in its first quarter report a high of $4 million in sales, about $2 million higher than previous quarter. Under the company banner is also HempMedsPX, which provides marketing and logistics for the cannabis industry; CanChew Biotechnologies focusing on the treatment of medical disorders and pain with the use of chewing gum-based cannabis; Wellness Managed Services, provider of management support for wellness facilities; and MPS International, security services to businesses in the legal cannabis industry.
For investors though, Medical Marijuana, Inc. can be seen as akin to a pot mutual fund in that the company owns various sectors of the marijuana market including the growing and selling of it as well as the peripheral side streets of marketing and management support. Of course, it is by no means the only marijuana company to spring up during the legalization bubble, but it is one with foundational roots with both knowledge and experience in the industry. The company has a 52-week trading range of between $.09 and $.48. According to the company's 2013 Fourth Quarter Shareholder's Report, its HempMedsRX posted revenues of $1.4 million, higher than that of $250,000 posted in the third quarter. Under its CanChew Biotechnologies segment, the company posted fourth quarter sales of $58,000, up from $34,000 in the third quarter. MJNA's Red Dice Holdings stated reported fourth quarter income of $434,000, slightly higher than its third quarter income of $322,000. Red Dice Holdings is also the owner of Dixie Brand which includes Dixie Botanicals that provides 70 unique consumer products.
MJNA had roughly $2.7 million in cash at the beginning of 2014, after burning through about half of its reported sales revenue. The company's debt is kept low with management's tight reins on operating costs. The company has a market cap of $146 million, revenue of 7.42 million, and total debt of $6.88 million. With the selloff of cannabis stocks in the first quarter, there was no shortage of stock shares. Currently, MJNA has a diluted EPS of 0.03 and the need for diluting is negated by the increase in quarterly earnings (142% year-over-year), and strong or growing foundational numbers.
With the company's first quarter earnings jump and the increasing popularity of marijuana use, (some speculate that other states will legalize marijuana use before Obama's term ends), I see Medical Marijuana, Inc. as attractive now while it is cheap and holding on to it for future highs. However, I caution investors that this is speculative and still risky as the industry is far from mature as legislation is still being formed.
Medical Marijuana & Virtual Reality
Remarkably, emerging at the same time, which may cut into the growth of medical marijuana, is the world of Virtual Reality. It is an immersive medium, which is a computer-simulated environment that can simulate physical presence in places in the real world or imagined worlds.
Treatments that have been proposed for various medical issues such as anxiety and depression by the medical marijuana industry have been gaining traction in the virtual reality space as well. Virtual Reality based therapies is a means of providing controlled stimuli with the therapist able to monitor the patients reaction. This therapy was jump-started with the help of DOD funding with military labs setting up virtual reality treatment centers for treating PTSD and a variety of other medical conditions.
Facebook's $2.4 Billion Virtual Reality Acquisition
As virtual reality becomes mainstream with Facebook's (FB) $2.4 billion dollar acquisition you will see more companies with virtual reality platforms move into the medical space. Microsoft (MSFT) is developing a virtual reality gaming platform that is in the works according to Microsoft Studio boss Phil Spencer. Additionally, Next Galaxy Corporation (NXGA) recently signed with EON Reality and Willie "BumBum" Baker to develop fully immersive entertainment platforms that allow you to be at various places without actually, physically being there using virtual reality hardware. Subsequently, due to the Facebook acquisition it is wise to watch for this sector to start garnering heavy attention in the near term. It may be prudent to get in early before the release of Facebook's Oculus Rift.
Conclusion
Growth is expected to continue for Medical Marijuana as more states legalize marijuana. However, it will be interesting to note the long term effect of virtual reality on the medical marijuana field as virtual reality becomes more mainstream for treatments of depression and anxiety. It also may be the combination of legalized marijuana and virtual reality to be a winning combination with each industry working in sync with one another.
The preceding article is from one of our external contributors. It does not represent the opinion of Benzinga and has not been edited.
View Comments and Join the Discussion!