Florida Needs More 'Glass House' Says Report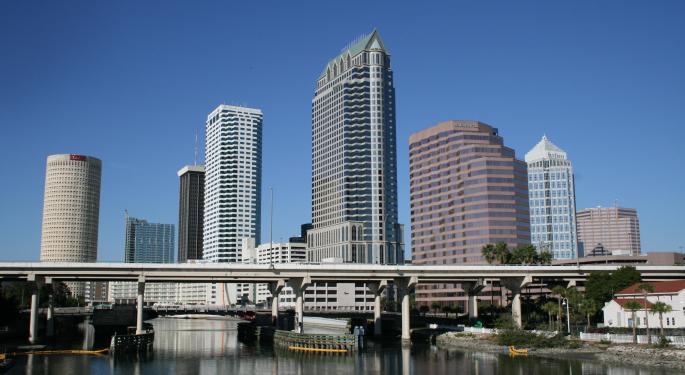 More closed deals like that of The Glass House at Signature Place in downtown St. Petersburg in the Tampa Bay Area could push the local real estate market up, according to a report on WSTP.com.
The Glass House spans 4,177 square feet of the 34th up to 36th floors and is made from customized furnishings and is famous for its "sweeping views." Local agents consider it a "trophy or iconic property," the report said.
"It's what we could call either a trophy property or an iconic property, and there's very few of those," said Craig Nowicki, a broker associate at RE/MAX ACR Elite group, told WSTP.com.
But sales of these rare finds to moneyed real estate investors could also push local home prices higher.
"Those properties have been steadily increasing in value in our market really since about since January of 2011, but really on a more normal growth path," Nowicki said.
And these properties are taken off the market fast, he added.
"It's only been on the market six days, and we're going on our fourth showing," Nowicki told WSTP.com.
The Glass House was sold for $3.2 million or $766 per square foot.
Tampa Bay condo and townhouse values soared by 9.6 percent from June 2013 through June 2014 to $111,281, according to the Tampa Tribune.
Median condo values in Miami meanwhile bottomed at 46 percent lower during the financial crunch, according to a report on Miami Herald examining the rise, fall and recovery of the Miami condo market.
Turning the real estate crash around may still present as a challenge for real estate professionals, investors and developers alike, but it won't be as difficult as the Florida market in general continues to pick up steam.
Online real estate technologies, especially those centered on SEO (search engine optimization) and virtual tours, could help agents build consumer trust and their listings' visibility. Fort Lauderdale-based digital company Realbiz Media Group, Inc. (OTCQB: RBIZ) creates disruptive marketing platforms for real estate agents in the United States to help them widen their reach.
One of the company's products, Nestbuilder.com, is a property listings site that hosts over 1.6 million videos and virtual tours. The website uses Nestbuilder Agent, a marketing tool that allows agents to create professional agent profiles and virtual tours out of listing photos. These profiles and virtual tours can be cross-published automatically to social media platforms as well.
Just recently, the company also came up with a new mobile app called EzFlix. EzFlix is a smartphone app optimized for HTML5 and mobile viewing, and is perfect for agents on the go.
EzFlix is an app that allows agents to create, edit and share their property videos through their tablets or mobile phones. It appears like a social network and is easy to use with drag and drop functionalities, and a timeline that keep all your listing photos and videos in one place.
Agents from big-name real estate companies like Keller Williams, Era Real Estate, Century 21, and Prudential Select Properties depend on Realbiz Media's virtual tour platforms to further their campaigns.
For more information on the company's products and services, please call this toll free number: 1.888.REAL.BIZ (888.732.5249) or email at support@rbm.zendesk.com.
The preceding article is from one of our external contributors. It does not represent the opinion of Benzinga and has not been edited.
View Comments and Join the Discussion!