How A Stock Market Game Can Help Your Portfolio
As an investor, I'm always on the look out for new tools to either help automate my portfolio or give me the extra confidence needed to take on additional opportunities.
But for the uninitiated, testing investment strategies can be costly. On the plus side, if you test a new strategy with your portfolio, you can achieve some minor profits. But on the down side, an unsuccessful strategy implemented in your portfolio can cause the loss of hundreds or even thousands of dollars. Talk about a situation that you want to avoid.
But what if there was an online platform that allowed you to test out new strategies without putting even a dollar of money into the system? What if you could trade $10,000 of virtual currency so you could see how your investment strategies would pay off in the larger market with all the constraints of real trading?
For sure, there are many of these types of stock market games on the market but not all of them are worth investingating. In this article, I take a look at the new offering from ggfinance developed by Vladimir Harutyunyan and Khachatur Grigoryan and see how it compares with other options.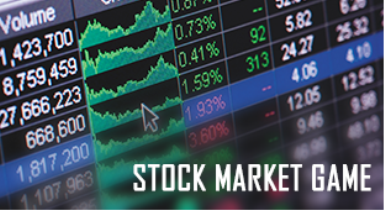 Background
As young developers, Vladimir and Khachatur met at the University of Armenia in 2006 and soon began discussing their brainwave for an investment platform that could educate users in a real-time investment environment whilst simultaneously connecting to social platforms. Platforms where experienced investors can blog about their strategies and systems, advertise their expertise and allow others to learn from their process. This is the foundation for the ggfinances game and what sets it apart.
Remove The Risk From Trying New Strategies
When you want to try a new trading strategy, you often have to ante up your own money. I remember when Facebook began trading. I was telling a friend of mine why it would be a good investment, and he bought in at $38 a share. The stock immediately plummeted to $19 a share. Talk about an ouch! If he had made that trade on ggfinances, then he would have been able to watch the stock's growth (or in this case, decline) without losing a penny. To be fair, the stock is now trading at over $64 per share.
When you're trading in the market, it's easy to feel like you are quarantined in an environment where you don't have any help from any direction. Contrast that with the experience at ggfinances. With this stock market game, you can watch what current traders buy. You can then talk with them, and even ask them questions. In essence, ggfinances is a stock market game and social network for traders, so you can communicate all your questions and suggestions to others. Now, when you test a new trading strategy, you'll find that you have an entire community of traders to chat with. This is one feature of the stock market game from ggfinances that sets it apart from all other stock market simulators available.
Trade On A Realistic, Hyper-Sensitive Platform
Most stock market games have one severe shortcoming – they don't work! They offer very basic functionality, and as a result, people come and go quickly. Contrast that approach with ggfinances.
I have used the platform myself, and I can tell you that it is very realistic. When you are placing a trade, you have up to $10,000 to work with – but the platform will charge trading fees, just like a regular broker (remember, this is all play money).
Not only is the platform highly intuitive, it is also deeply responsive. ggfinances' charts feature is worth the use of the program in itself, as all charts provide the bells and whistles to suit any number of trading styles.
But I have to return to the social network features built into ggfinances. Much like Facebook's news feed, whenever a person makes a trade on ggfinances, it will show up on your feed. So you always know exactly which person is trading which stock. You'll know what kind of trade it was, and how much was invested. Unlike all other stock market games, ggfinances sets you up for success, by allowing you to see how other traders are performing – giving you incentive to beat them and get a higher return.
At all moments, there is a leader board to the left of the trading platform, so you can see how the top traders are performing. Again, the purpose of this is to inspire you to trade with greater interest and focus – because maybe, you can be at the top of that leaderboard one day.
Before I move on to the next point, I have to mention that there is a highly intuitive stock screener functionality with ggfinances as well. With the stock screener, you input your trading strategy, and then the stock screener returns stocks to you that fit your criteria. Imagine having a stock market game that does all of your research and investigation work for you. You could use this tool not only with ggfinances, but with your actual portfolio. Though I highly recommend testing your new strategy on ggfinances first, to mitigate your risk.
Demonstrate Your Trading Savvy To Potential Clients
Professional investors, take note. ggfinances might just be the best thing that's ever happened to your business. Now, you can demonstrate your own trading strategy in a real-life simulated environment. When you are looking to gain clients, you can point them to your portfolio and demonstrate your investing capabilities. This is a powerful feature that you now have that you can use to bring in new clients. Don't miss out on this stock market game that can actually grow your investing business.
Investors Wanted
Not only is ggfinances a terrific option for savvy traders – or even beginner traders – the stock market game ggfinances have developed is now seeking investors who want to grow ggfinances into the largest and most successful stock market game there is. The company is looking for a bright and ambitious person to join the team as an invested partner. Maybe, that person is you?
If, on the other hand, you are a beginner investor, or even a professional investor, you should give ggfinances a try.
You can test out all the strategies that you want, which will show you whether you are going to make good investment decisions or not. The tools on ggfinances are remarkable, and will help you become a better trader.
As a professional investor, you can demonstrate your trading prowess to potential clients, build a following and sell your services. And with ggfinances, you remove the risk from all the trades that could otherwise cost you thousands of dollars. I found using the platform extremely enjoyable and it's definitely worth a look.
The preceding article is from one of our external contributors. It does not represent the opinion of Benzinga and has not been edited.
View Comments and Join the Discussion!