Poland: Retail sales growth below expectations but outlook still sound.
Poland's retail sales rose by 3.1% yoy in March, below expectations of a 5.7% increase. In February retail sales rose by 7.0% yoy.
There were two main factors lowering sales growth in March. First, growth in sales of vehicles lowered to 12.3% yoy from 24.9% yoy in February. It is worth noting that very high growth in February resulted from the wave of cars purchases before planned VAT regulations changes. In March vehicles sales growth was weaker but still sound. The second important factor reducing retail sales growth is later Easter date this year vs. the previous year. Pre-Easter shopping culminated last year in March, which raised the base for today's reading. This fact was reflected in significantly lower growth rates in two categories: food sales (-7.3% yoy in March vs. 6.9% yoy in February ) and sales in non-specialized stores (-3.0% yoy vs. 7.2% yoy a month earlier).
Weaker-than-expected Poland's retail sales figures for March do not change medium-term forecasts that are still quite optimistic. March data were the result of one-off factors, while consumer confidence is still rising due to improving situation on the labor market. The statistical office released today that unemployment rate at the end of March amounted to 13.5%, whereas the market expected a level of 13.6%. Poland's labor market data have been better than expectations for a few months that should be interpreted as a very positive signal despite being somewhat result of weather conditions. Consumer confidence in Poland is also improving due to low inflation levels and low interest rates. Monetary policy easing reduces debt-servicing costs for households and encourages them to finance spending through consumer credit. Today's data suggest that consumption increased in the first quarter this year by about 2.6-2.7% yoy and is likely to accelerate in the coming quarters.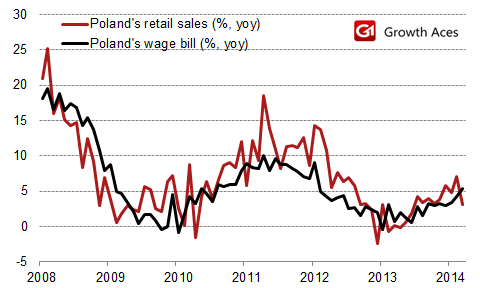 Today's data will not change the current stance of the Monetary Policy Council. The MPC announced in its recent statement that the rates should not be changed until the end of the third quarter but is widely expected that monetary authorities will keep interest rates unchanged until the end of the year. However, improving consumption growth may create inflation pressure in the medium term, which may lead to monetary tightening next year.
Thank you for reading.
The preceding article is from one of our external contributors. It does not represent the opinion of Benzinga and has not been edited.
View Comments and Join the Discussion!