Turkey: Central Bank kept key interest rates on hold.
The Central Bank of the Republic of Turkey (CBRT) kept key interest rates unchanged despite the ongoing political pressures to resume monetary easing cycle. The decision was in line with expectations. One-week repo rate remained unchanged at 10%, the marginal funding rate at 12% and the overnight borrowing rate at 8%. It lowered late liquidity lending rate to 13.5% from 15% previously.
The CBRT is under political pressure but the inflation data warns against monetary easing. The CBRT governor Erdem Basci finds current monetary policy too tight but is the opinion that the monetary authorities should be watchful of second round effects coming from high inflation levels. A notable growth in inflation was recorded in March. Headline CPI amounted to 8.39% yoy vs. 7.89% yoy a month earlier and core inflation went up to 9.32% yoy from 8.43% yoy in February. The readings were well above the CBRT target of 5%. Inflation driven by weak Turkish lira and base effects deteriorates inflation expectations.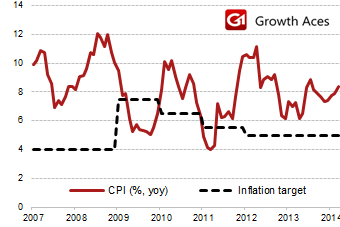 Turkey's central bank said that it would maintain its tight monetary policy stance until there was a significant improvement in the outlook for inflation. Next week we will see new inflation projection of the central bank and an upward revision is widely expected. Inflation peak is forecast for May.
The situation on money market is stabilizing. Short term interest rates lowered significantly in April. Since March rate decision overnight money market rates have fallen over 125 bp. Currently less than 2% of total central bank liquidity is provided at the overnight lending rate while at the end of January it was almost 90% of total funding. Turkish central bank said that recent reduction in uncertainties, partial improvement in risk premium indicators lowered need for additional tightening.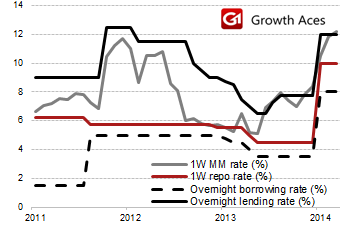 One of the most important problem for Turkish economy is large current account deficit and high level of short-term foreign debt in relation to FX reserves which makes its highly exposed to the shift in global capital. Accumulation of FX reserves should be considered along with the rate cuts.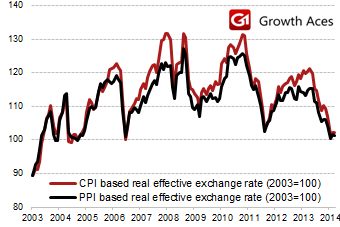 Let us take a look at real effective exchange rate. It is relatively low currently that limits imports and helps to narrow current account deficit. The central bank still has to keep interest rates high to counteract capital outflows. We do not see the case for monetary easing but political pressure may heighten ahead of presidential elections.
Thank you for reading.
The preceding article is from one of our external contributors. It does not represent the opinion of Benzinga and has not been edited.
View Comments and Join the Discussion!