Three Reasons to Buy Soupman, Inc. Stocks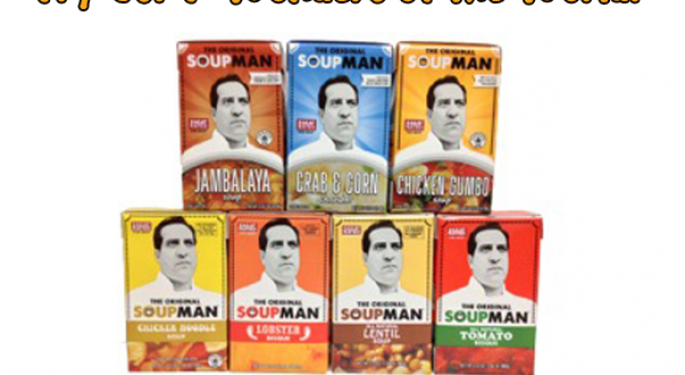 Soupman, Inc. (OTCQB: SOUP)shares performed considerably well over the past few days, records showed. Data on Yahoo Financerevealed that share prices rose 5.23% on Monday to close at 0.38 cents per share. However, Soupman is still below its April opening when its shares traded at.42 cents a share. SOUP prices fluctuated and declined just like similar specialty food companiesduring the same period, but quickly regained momentum as volumes slowly increased. The basis of fluctuations is unknown, although market insights revealed that it could be due to a number of factors, including rising labor costs, "relatively weak consumer confidence," higher unit prices, and an increased number of food imports, according to KPMGand Food Processing'sfood industry outlook surveys.
According to a report on The Street, Soupman earned $2.838 million last year, representing a 33 percent increase from its $1.898 million revenue in 2012. The report also said that Soupman Inc. posted impressive Q1 revenues this year amounting to $1,072,216—a 48% increase year-over-year.
However, all these could simply be windfall gains for SOUP as soup demand rebounded in 2013. According to Euromonitor International, the soup industry is headed towards robust growth between 2013 and 2018, with the market projected to reach $5.4 billion (8%) even if volumes are seen to dip by four percent. Euromonitor noted that the value increase rely largely on new products sold at a premium price. The health and wellness trends will also dictate growth for soup manufacturers over the forecast period.
So can SOUP keep its stocks piping hot this year? Let's take a look at the pros and cons of SOUP.
Cons
Volatility. SOUP stocks are volatile because they are traded over the counter. Also, the company only has 27.3 million shares available for trading, according to The Street contributor Craig Adeyanju.
As earlier mentioned, SOUP stocks currently trade at 0.38 a share. Yahoo Finance data meanwhile revealed that SOUP stocks were trading at a 52 week range of 0.36 to 0.80. Trading volume fluctuated wildly from 11,800 on March 14, to a whopping 196,800 on March 28.
Small Market Cap. SOUP has a small market capitalization of $14.4 million that caters to retail investors. Its enterprise value is $20.45 million, according to Yahoo Finance. Its current size is still a long way to go compared to big players, like Campbell Soup Co (CPB) and Progresso, which is sold by General Mills (GIS) with billions in assets. And just like other micro-caps, SOUP stocks trading may award smaller yields to investors because it is more likely to use it revenues on expanding.
Seasonality. Soup demand usually rises in cold months and has brought about more soup salesfor CPB, according to Tom Traulli of Investor Place. Interestingly, this was not the case for SOUP as the company experienced dips in share prices from January to February this year. However, trading volume for SOUP increased in spring as otherwise expected. Either way, it is good to note that seasonality may come into play when buying soup stocks in general; it will always be wise for you to buy SOUP stocks when people craved soup the most.
Pros
Status. Soupman, Inc.has a brand recall rivaled by big-caps in the industry. Long before it was featured on Seinfeld episode "No Soup for You!", SOUP already had a strong following due to its awesome soup flavors. Its franchise locations in New York City are a must-visit when you are on a culinary tour of the Big Apple. (Reviews on Trip Advisorare indicative of how beloved SOUP is.) It is no wonder that the Super Bowl picked SOUP last year to serve thousands of its spectators with popular SOUP specialties like the Lobster Bisque and the Jambalaya. The exposure allowed SOUP to get a huge amount of publicity without spending millions in advertising.
Big Backers. SOUP is led by a powerhouse of seasoned food and beverage savvy entrepreneurs, advisors and celebrity partners. The company enlists the leadership of Outback Steakhouse co-founder Tim Gannon as Head of its Culinary and Business Development; "franchise whisperer," sales whiz and Johnny Rockets co-founder Lloyd Sugarman as Chief Executive Officer; and of course, legendary soupman, Al Yeganeh as a Special Advisor. The company's roster of growing celebrity equity partners meanwhile include Seinfeld star Jason Alexander, and athletes Reggie Jackson and Shaquille O'Neal.
Quick National Rollout. SOUP's recent partnership with Tetra Pak has tremendously improved its market position, literally and figuratively. According to a 2013 Harbinger Situation Special Report on SOUP, making its soups available in Tetra Pak allows the company to have its soup varieties displayed on supermarket soup aisles along with competitors Campbell's and Progresso.
"We believe The Original Soupman's price, gourmet quality, and shelf-storage capability should allow it to be very successful in this regard, as recent distribution agreements clearly evidence," the Harbinger report said. Indeed, this has been a fruitful endeavor for SOUP as it gained more shelf spaces in over 3,000 grocery stores across the US (i.e. Meijer, Harris Teeter, Super Fresh, Safeway, Food Emporium, Walmart, Stop & Shop), and in casino specialty food stores like the Mohegan Sun Casinos in Connecticut.
Also, in February, the company opened Original SoupMan's Famous New York Delicatessen & Restaurant at the Quick Bites food court of the Resorts Casino Hotel in Atlantic City, according to the company's news release.
Last year, the company started to offer soup trucks franchise opportunities and would be rolling out between 80 to 100 food trucks for $100,000 a truck. The company also signed a multi-franchise partnership with Robert Azinian, a Johnny Rockets franchise owner, to open Al's Famous New York Delicatessen & Restaurant in casinos in U.S. and Canada, QSR magazine reported.
Final Note
Despite volatility risks, SOUP's expanding operations, price rally and Q1 revenues are proof that the company will go places this year. That said, the pros most definitely outweigh the cons of this stock.
The company's recent moves will help sustain its long-term growth and current trading activities. It has all the makings of a big-cap company: SOUP has a wide-ranging product line, diverse income streams, great distribution channels, a well-rounded business model, and strong leadership. All these have the potential to boost the company's valuation by many-folds.
The preceding article is from one of our external contributors. It does not represent the opinion of Benzinga and has not been edited.
View Comments and Join the Discussion!