Oil and Gas Could be the new Leaders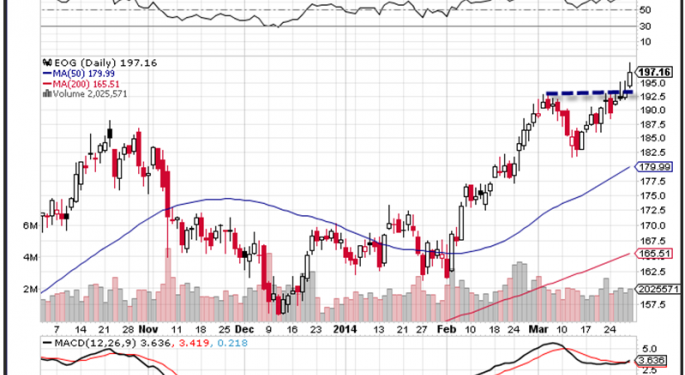 As momentum stocks have come under pressure in the last two weeks, investors have turned their attention to oil and gas stocks which have experience a revival and could be the new leaders during the second quarter. EOG Resources together with its subsidiaries, explores for, develops, produces, and markets crude oil and natural gas.
The stock moved above trend line resistance and is now poised to move higher with former resistance now support. Support is also seen near the 50-day moving average near 180. Moving averages are also used as support and resistance levels. A moving average is an average where the first day of the average is eliminated when the next day is added.
Positive momentum is increasing which is reflected by the bullish signal created by the moving average convergence divergence index (MACD). The MACD evaluates momentum by measuring the spread between two moving averages (the 12-day moving average minus the 26-day moving average) and comparing that spread to the 9-day moving average of the spread.
When the spread crosses above the 9-day moving average of the spread, a buy signal is generated. This is shown in the lower right corner of the chart. The MACD histogram (the blue histogram at the bottom of the chart) moved from negative to positive territory which confirmed the buy signal.
The relative strength index (RSI) which is an oscillator that measures overbought and oversold levels, by comparing the current price to the last 14-days closing prices, has moved higher with price action. This type of movement reflects accelerating momentum, which generally confirms upward momentum in a stock price. The current reading of 70.49 is above the overbought trigger level of 70 and shows that EOG is now considered overbought. This condition could last a while as the stock price moves higher but it also could foreshadow a correct.
The following article is from one of our external contributors. It does not represent the opinion of Benzinga and has not been edited.
View Comments and Join the Discussion!