Volatility Resurfaces, but for How Long?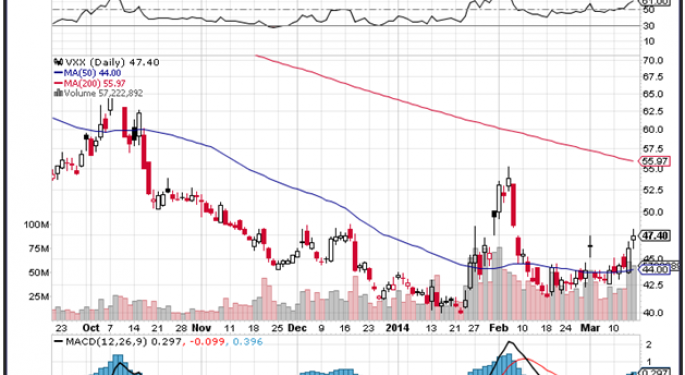 At the end of last week, investors were fearful of a referendum vote in Crimea, and the declining trajectory of economic activity in China. As tensions in Ukraine mounted, implied volatility increased as investors looked to hedge their portfolio's against an adverse move in equity bourses. The weekend has now passed, and the question for investors is whether volatility will remain?
Part of last week's sell-off was generated by thecontinued angst regarding Chinese growth. The Yuan continued its downward drift last week and China announced that they were widening the band within which the Yuan is allowed to trade. They couched the announcement in terms of continuing reforms that will eventually allow the Yuan to float freely. With a declining Yuan, is China attempting to back door a rate decline, without showing the market its hand? Stocks in Chinese increased on this news, with the Shanghai rising nearly 1%. US markets were also buoyed, so has trepidation in equities been quieted.
The technical picture for the (NYSE: VXX) shows that volatility is increasing and likely remain elevated into the spring proprietary trading season. Momentum on the VXX, which is an ETF that follows the VIX volatility index, is increasing. The MACD (moving average convergence divergence) index generated a buy signal last week as the spread (the 12-day moving average minus the 26-day moving average) crossed above the 9-day moving average of the spread. The index moved from negative to positive territory confirming the buy signal. The relative strength index (RSI) moved higher with price action reflecting accelerating positive momentum while printing near 61 which is on the upper end of the neutral range.
Fed Chair Janet Yellen will meet this week with after her first Fed meeting as the Chairwoman. Her comments and way of dealing with the bond purchase program will be key to investor sentiment and likely be the driver for volatility over the coming week.
The preceding article is from one of our external contributors. It does not represent the opinion of Benzinga and has not been edited.
View Comments and Join the Discussion!