The Toyota Way : the 14 management principles of the world's largest car company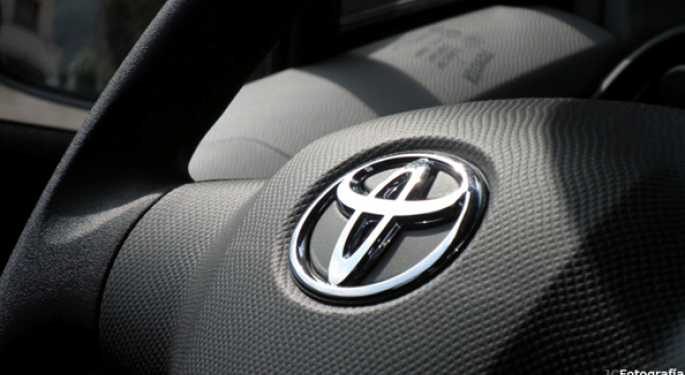 In the space of five decades, Toyota (NYSE: TOYOTA) have evolved from a small car company into the world's largest car manufacturer with an established reputation for producing simple yet reliable vehicles. Toyota align most of their success to the strategic principles established throughout their company's framework. Referred to as 'The Toyota Way', here are the 14 management principles to which Toyota associate their worldwide success;
Long-term vision

— Toyota base their day-to -day decisions in accordance with the company's long-term philosophy, irrespective of the effect these decisions have on their short-term goals. Toyota's long term philosophy emphasizes self-reliance as well as taking personal responsibility for yourtheir fate. Honour, respect and dedication are fundamental values within the company. As a whole Toyota promotes their long-term responsibility as a global citizen and subsequentaccountability for their company's actions. (source =

Jardine Motors

)

Creation of continuous flow/improvement

— Toyota follow a process of '

kaizen

'; Japanese for continuous improvement. They aim to consistently detect and rectify issues thereby creating a continuous or 'one-piece' flow of production.

Use of a 'pull' system

— Toyota operate a 'pull' system which means providing retailers with products just as the retailer needs them. This system eradicates unnecessary overproduction.

Consistent production level

— Toyota follow a policy of '

heijunka

'-also known as 'production smoothing'-which aims to reduce waste and produce goods at a constant rate. Therefore production can operate at a constant and predictable rate.This process of lean and continuous flow means that problems are efficiently identified and quickly corrected because the entire company is focused on solving them.

Construction of a correctcompany culture

— Toyota's company culture refuses to compromise on quality. Subsequently all processes are stopped in order to fix a specific problem and to ensure quality is always achieved.

Standardized tasks— Wherever possible Toyota (NYSE: TOYOTA

)

make tasks similar and consistent.These standardized task processes enable workers to improve by repeatedly performing actions, thus avoiding product defects.
Visual control

— Toyota organize their production plants so that you can see all of the processes in action. This ability to maintain visual control over all production processes ensures nothing is hidden and problems can be easily identified and fixed.

Use only tested technology

— Toyota discourages the use of cutting-edge technology and opts instead for well-proven technologywhich supports their values and processes.

Grow leaders who live the philosophy— Egotistical managers prevent the company from evolving and achieving its objectives. Subsequently, Toyota (NYSE: TOYOTA

)

only employ managers and employees who invest in the company's philosophy; putting the company and customer's needs ahead of their own personal preferences.
Respectful teamwork

— Mutual trust is a fundamental company value. For Toyota, excellent team members are those who respect one another's minds, ideas and capabilities.

Respect for everyone within the Toyota network

— Toyota invest within their partners and suppliers, challenging them and aiding their improvement.For example,

in 2010 Toyota and Mazda announced a supply agreement for the hybrid technology used in Toyota's Prius model

. Toyota endeavour to help all of their suppliers and partners attain the same high standards of excellence as the rest of the Toyota company.

Observe the source

— Toyota operate

'genchigenbutsu

'; which means going to the source to find the facts in order to understand and fix any problems. Toyota managers observe a business process occur, and then proceed to repeatedly question this process until they completely understand it.

Makedecisions slowly yet implement solutions rapidly

— Toyota dedicate a great deal of time to contemplating important business decisions, deliberating upon all possible options. However, once a decision has been made, they immediately proceed to implement it within their company.

Relentless reflection

— also referred to as '

hansei

', Toyota focus upon continuous and relentless reflection in order to improve as a company. They work with diligence and passion to identify the root causes of problems and educate themselves in order to develop new innovative solutions.
The success of these principles is evident when you look at Toyota's sales figures. As a result of the Toyota Production System, Toyota (NYSE: TOYOTA) have sold over 6 million of their hybrid vehicles and the latest million-unit milestone was achieved in their fastest time yet; taking a mere nine months to do so. Toyota's continuous striations for universal excellencemean that, no matter how successful they become, they will continue to search for new and innovative improvements.
The preceding article is from one of our external contributors. It does not represent the opinion of Benzinga and has not been edited.
View Comments and Join the Discussion!