Playing With Nexflix Again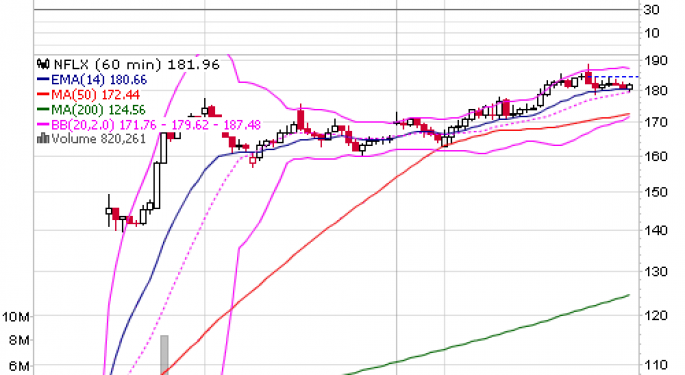 Netflix, Inc. Credit Spread (NasdaqGS: NFLX)
TheOptionPlayer.com recommends a Netflix (NFLX) short-term (7-day) option strategy. Investors could simultaneously:
Sell the February week-three expiration NFLX $200 call for $1.38 (yesterday's closing price)
AND
Buy the February week-three $205 call at $.85 (yesterday's close)
The difference between funds received and paid out is a $.53 per share credit which we keep if Netflix stock closes below $200 on Friday February 15th, but immediately exit the position if it appears the price will end up higher. Another suggestion is if the price gaps higher in the morning open the trade using higher strike prices. See Guidelines page at www.theoptionplayer.com/ for explanation on how trade is set up.
Why we recommend it:
This trade has been profitable for several consecutive weeks and is setup to continue. Netflix, Inc. (NasdaqGS:NFLX ) stock spiked higher a few weeks agoafter reporting better-than-feared Q4 earnings. As confirmed is the chart below, Netflix, Inc shares currently are grossly overbought as defined by the Relative Strength Indicator (RSI). And now we are starting to hear several analysts warn that Netflix stock is overvalued, plus the U.S. Postal Service plan to eliminate Saturday service would negatively impact Netflix DVD delivery business. Aprice pullback appears to be inevitable as traders are already starting to take their profits. At the very least there is a high probability that Netflix, Inc. stock will remain below the $200 target for another week as it has not been that high since last fall.
52-Week High: $188.88
52-Week Low: $52.81
Average Volume (3 month): 5,012,200
View Comments and Join the Discussion!