Social Market Analytics Looks at Green Mountain Coffee Roasters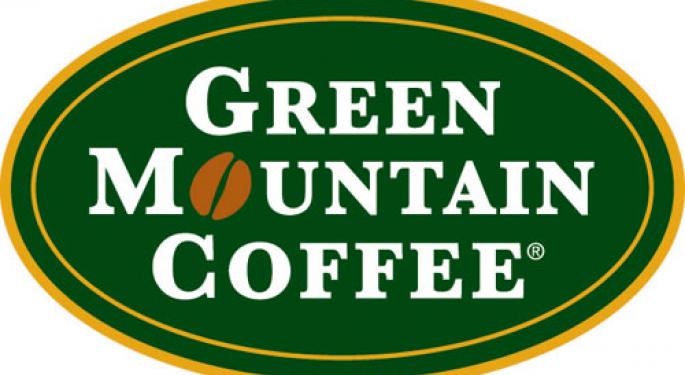 This week, Social Market Analytics (SMA) looks at Green Mountain Coffee Roasters Inc. (NASDAQ: GMCR), a specialty coffee roaster and maker of the Keurig™ single-serve brewing system. The week of October 1 was difficult for GMCR shareholders. The stock declined 6.78% on negative comments from a notable hedge fund managerand endured more negative commentary as analysts raised concerns over Green Mountain's competitors' plans to market several new single-server coffee brewing platforms in direct competition with Keurig™. Historically, GMCR is a volatile stock with an active social media signature. The stock was SMA's weekly focus three times, previously, first in March after major product announcements from Starbucks, again in May after negative earnings guidance, and most recently in July as GMCR made unusual gains in the midst of a pessimistic market environment. GMCR appeared twice during the week on SMA's morning Flash Report, which identifies stocks, in the pre-market, with extreme sentiment levels that are likely to trade with high activity during the upcoming session. In the pre-market of October 5, our analytics engine identified GMCR as a stock with high negative sentiment from the universe of stocks tracked by SMA. As the week progressed, SMA's metrics provided initial indication and later confirmation of negative market sentiment for GMCR as traders integrated the negative viewpoints expressed on the stock.
Beginning on October 1, SMA's S-Score for GMCR entered a downtrend leading to negative territory. In the pre-market of October 3, GMCR's S-Score posted a firmly negative level of -1.56, coincident with a spike up in S-Volume indicating unusual social media activity. The stock opened flat at $24.00, but sold off to close at a loss of 2.5% for the day. The behavior of SMA's S-Score measures market trading sentiment and can provide actionable signals for upcoming price movement. In the pre-market of October 5, GMCR's S-Score moved sharply lower to -2.07 (High Negative). The stock opened at $23.69, sold off rapidly reaching an intraday low of $21.91, and closed the session at $22.13, a loss of 6.36% for the day and a decline of 6.78% for the week.
Social Media data are noisy and complex. A single metric is insufficient to understand sentiment behavior over time. Our S-Factors are a family of metrics, including volatility, trend and volume measures, designed to provide a complete view of social media signature for each security tracked in SMA's databases. SMA's processing engine continuously updates our S-Factors, capturing overnight and pre-market sentiment activities. Clients receive sentiment reports prior to the U.S. market open and intra-day sentiment estimates for tracked stocks, on-demand. We invite the reader to visit our website; investigate our market sentiment metrics for GMCR, other stocks, industry sectors, and market indices; participate in our FAQ forum; and sign up for our Flash Report and Newsletter.
View Comments and Join the Discussion!